Countryside campaign
Share - WeChat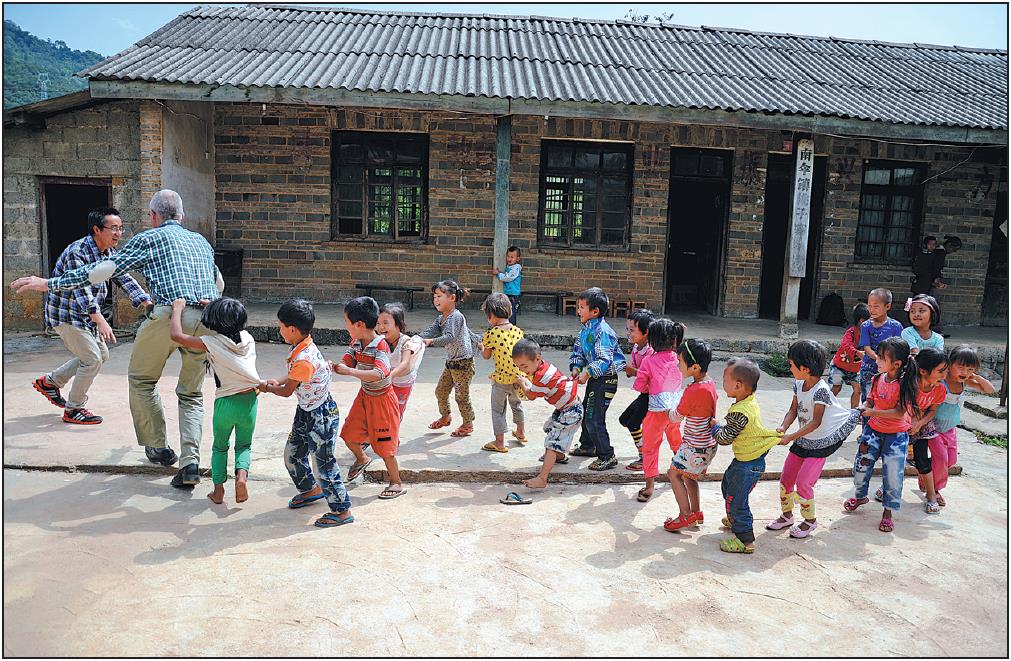 More than three decades ago, Michael Hermann, a language student from Germany, cycled across China's countryside, relying on the goodwill of poor but hospitable farmers. That engagement later morphed into a longtime career.
Over the past 16 years, the 64-year-old has worked in far-flung communities in Yunnan and Sichuan provinces and Chongqing to help curb HIV/AIDS, support village development and bolster children's early development.
"We do not 'fight poverty', since it is an abstract phenomenon," says Hermann, chief representative of the Federation of Associations connected to the International Humana People to People Movement Representative Offices.
"But rather, we 'fight alongside the poor'."
The humanitarian worker, who speaks Chinese, English, Spanish and Danish, and has worked in more than 35 countries and regions, is a contributor and witness to the great transformations unfolding in China's rural areas in recent decades.
The drive led by the Communist Party of China, which celebrates its centenary this year, has narrowed the urban-rural gap by expanding rural infrastructure, fostering industries, curbing rural school dropout rates, and broadening healthcare coverage for millions of farmers.
Born in a doctors' family, Hermann chose not to attend university and traveled in less-developed or war-ravaged regions, offering voluntary services in France, the Middle East and South America. He worked as a truck driver, steelworker and salesman at intervals to fund his volunteer dream.
Funded by a Danish research body, Hermann arrived in China in 1987 for a two-year language program at Fudan University in Shanghai.
Back then, the Party redoubled efforts to curb rural poverty after the "cultural revolution" (1966-76) had ended. The populous and largely rural country was different compared to the world's second-largest economy that it is today.
Rush-hour streets swarmed with millions of bicycles, with few cars and high-rises in sight. Modern services, such as international phones or telex, were scarce even in developed cities such as Shanghai. Malnourishment was widespread, especially in rural areas, and Hermann, who is 184 centimeters tall, felt like a giant when traveling, he recalls.
"On buses, I was one head higher than all others," he says.
In 1988, he had a taste of genuine rural life in China. He spent a week of his winter break at a classmate's home village in Jiangsu province. The mud houses, makeshift toilets-typical rural features then-mesmerized Hermann, alongside the hospitality of his hosts and neighbors. The experience made him take a longer lone trip a few months later.
On a Flying Pigeon bicycle, he rode 1,100 kilometers westward to Wuhan, Hubei province, during his summer break. He then took a boat to Nanjing, capital of Jiangsu, which is 350 km north of Shanghai, and eventually returned to the Fudan campus. During the three-week tour, Hermann stayed in State-owned hotels or in village committee rooms when no hotels were available, a common occurrence at that time.
"People always helped me find a place to sleep," he says.
The trip allowed him to talk with farmers about their crops, income, education and dreams. He was invited to homes adorned with simple furniture, farming tools, storage tanks filled with popular staples such as corn, rice and potatoes, and portraits of Chairman Mao Zedong.
"I just remember how friendly people were," Hermann says. "All the rice fields and all the villages were simple, clean and modest. There was very little traffic, and very quiet after sunset."
Behind the idyllic landscape, rural poverty was dragging the nation's development. In 1978, when the reform and opening-up policy was launched, China had more than 800 million people living on less than $1.9 a day, the international poverty line.
Most Popular