A hero who inspires a new generation
Share - WeChat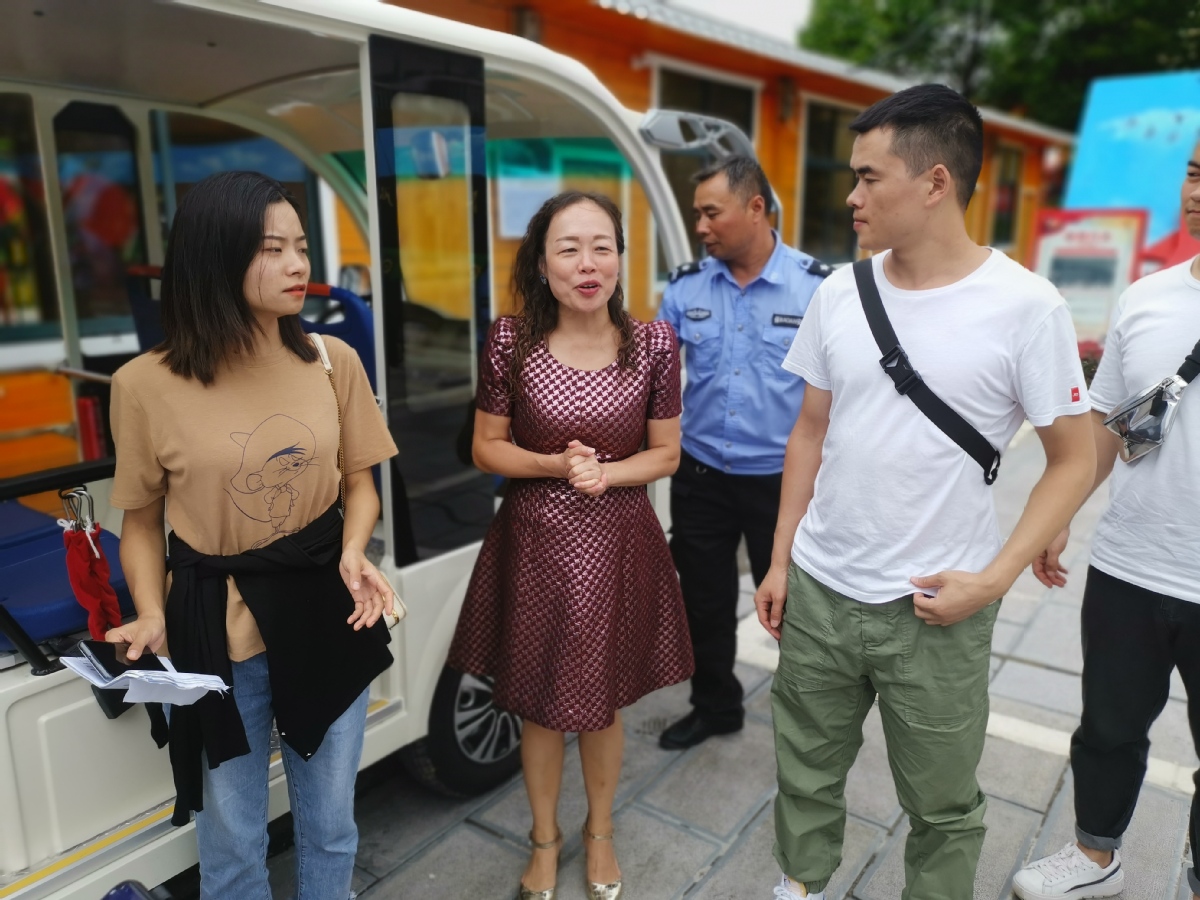 About 10 years after her grandfather passed away in 1988, Kong Xia started to learn more about the history of the Communist Party of China. She gained a deeper understanding about her grand-father, Kong Xianquan, a Red Army veteran who devoted his life to passing on the red spirit.
From October 1934 to October 1936, the Red Army, the forerunner of the People's Liberation Army, carried out a daring military maneuver-the Long March, which laid the foundation for the eventual victory of the CPC.
Kong Xianquan was one of the thousands of Red Army soldiers who participated and fought in the historic march. In 1930, he joined the Red Army in his hometown in Hunan province. During the Long March, the conditions were harsh and many Red Army soldiers sacrificed their lives. Kong was also seriously wounded and stayed back in Zunyi, Southwest China's Guizhou province.
Zunyi, a city 170 kilometers north of Guiyang, the provincial capital of Guizhou, was the site of a pivotal meeting during the Long March.
In January 1935, an expanded meeting of the Political Bureau of the CPC Central Committee was held there. It focused on rectifying errors in military and organizational affairs and established a new leadership of the Central Committee, as represented by Mao Zedong.
The meeting is regarded as the turning point of the Long March, leading to the ultimate success of the revolution.
Memorial site
In 1955, the Zunyi Meeting Memorial Museum was built next to the meeting site, demonstrating the Party history via more than 1,500 historical relics.
Kong Xianquan, was the first curator of the museum, one of the earliest revolutionary memorial halls established after the founding of the People's Republic of China.
"My grandfather was a strong-willed man and was very strict with us. For example, he never allowed us to waste food or spend money on luxury goods. But I didn't know too much about him or his experience during the war time," Kong Xia said.
Kong Xia's father used to be a diplomat in the Air Force's branch base in Kunming, capital of Yunnan province, neighboring Guizhou. She spent the first eight years of her life in Kunming and met with her grandfather in Zunyi after her father's retirement in 1978.
"We didn't communicate that much. But I still remember that every time my grandfather went to the market, he would deliberately pick withered vegetables left in the afternoon, because those were difficult for farmers to sell, which made my grandmother not know whether to laugh or cry," she said.
In 1997, Kong Xia gained a national tour guide certificate and learned a lot about the history of Zunyi.
"My family name is not popular among local people in Guizhou. Every time people asked me about my family name, I would mention my grandpa. My passion for learning Long March history was triggered then," she said.
In 2013, Kong Xia who worked in Zunyi Culture, Radio, Television and Tourism Bureau, turned her work focus on studying Long March history and she began to shoulder the work of red spirit promotion in 2015 by talking about history.
In the past years, she delivered many speeches at local schools, exhibition halls, social organizations and also spoke to tourists. The question she was asked most often is how to define the Red Army spirit.
Red Army spirit
"Generally, I think it's a firm belief, which inspired people to achieve a certain goal, either in work or life. The Red Army spirit is a faith that encourages us to be strong in any setback that we encounter and not be afraid of hardship," Kong Xia said.
She said her understanding on the spirit is not just from history but from the daily life of her grandfather.
"He never asked for any help from the government and had led a simple life. In the 1960s, my grandparents supported the whole family on their own. Grandpa told me that my father wore his only pair of trousers for many years," she said.
Kong Xia said the family instruction from her grandfather was to be industrious and thrifty in managing a household, and abide by the philosophy of plain living.
The instruction has guided the family from generation to generation. Kong Xia has a son, 22, who is a college student. "Many electronic appliances in our home are even 'older' than my son and they are still operating," she laughed.
Also, she said the Red Army spirit had been practiced by her grandfather his whole life by insisting on the following principle: to do the best he can, to cause no trouble for others and to consider the needs of others.
After her grandfather passed away in 1988, Kong Xia found six pieces of shrapnel in his ashes.
"When he was alive, he never revealed what he had suffered in the war time. I think that's the same spirit seen in other Red Army soldiers, who marched as far as 12,500 kilometers and endured hunger, thirst and cold, and achieved final success in the revolution," Kong Xia said.
In her work on promoting red culture, she finds meaning in teaching primary schoolchildren and training tour guides and lecturers.
"China has developed rapidly and the great achievements, in terms of science, technology, social services and the economy, are all the results of the efforts of each individual.
"The good life we enjoy today was attributed to previous generations. The values of hard work and humility should be passed on to the next generations," she said.
Zhao Yandi contributed to this story.
Most Popular