Turkish delight for inventive man in Fuzhou
Share - WeChat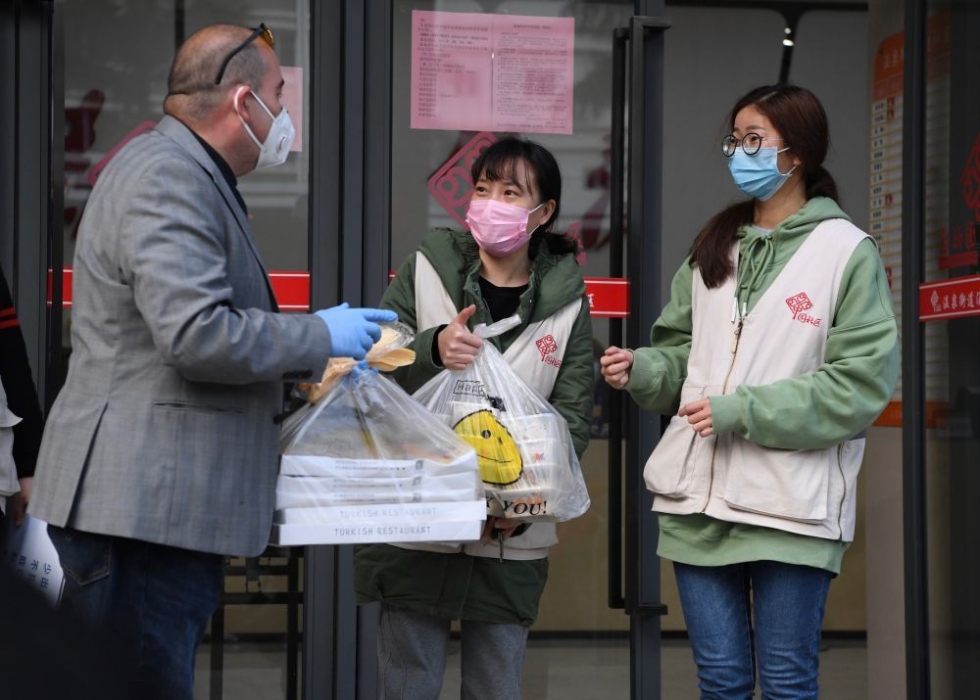 Owner of diner serves up a recipe for success with humor and good deeds
Alaaddin Colak, a 46-year-old Turkish businessman who has lived in Fujian province's capital city Fuzhou for more than 26 years, was already a local celebrity known for his dedication to charity, his love of China and his pride as a Turkish culture campaigner.
He became known to even more people last year after the COVID-19 epidemic outbreak, when media such as Xinhua News Agency reported that he and his Turkish diner were serving free meals to local epidemic prevention workers to express their support.
He attributed his charity works to the "many good people" he had met in China.
"The first proverb in Chinese I learned is: I am for everyone; everyone is for me. I do good deeds for nothing in return. I am happy when I do good deeds, and many things go well."
Curiosity
His diner, featuring signature delicacies such as Turkish barbeque kebabs, enjoys an average review of 4.55 stars out of five on dianping.com, a leading coupon and review portal in China.
"I want to work harder and harder, to be a better person, be a good father to my two children, be a good boss for my employees. I cannot stop," he said.
Interestingly, some users on dianping.com said they found this diner as their curiosity was aroused by documentaries introducing kebabs to diners in Tokyo.
"The decoration is full of Turkey's charms with splendid, exotic lamps... The boss is also a man of great hospitality, and there is also a cute Turkish young man," wrote user 3345mimifaso.
"Japanese restaurants have been in China for more than 40 years, but Turkish cuisine has only been in China for 10 years, and many people have never tasted it. We wish more Fuzhou people could have kebabs,"Colak said.
This diner is not very profitable because the rent of the high-end building and its seating capacity do not match, but he enjoys running it.
"With six years (running it), I found that this industry is no worse than foreign trade. Many experts told me not to open a diner here. But it's close to my home and company, so I can entertain my clients and friends here," he said.
In face of economic headwinds triggered by the epidemic, Colak has also taken his new step to find more business opportunities.
The trend of developing shopping complexes featuring nostalgia is one that has caught his attention.
These complexes-such as the popular Wenheyou food court in Changsha, capital of Hunan province-are decorated in the style from 40 years ago.
Its eateries, shops and a range of facilities have decorations and an atmosphere that reflect the tastes from four decades ago. They attract large flows of young and curious shoppers.
Fuzhou has followed other cities in building such a complex. It's called M17.
"In the 1980s and 1990s, many old brands in Fuzhou were demolished, and these days many young people do not even know them," and now the local government and private sector have worked to bring them to life again, Colak said.
He launched a small diner there called "Mini Alaaddin". It serves food such as kebabs, hummus and ice cream.
And Colak's recipe for success is pricing.
"The dining business needs large flows of eaters, and we enjoy a lot of good ratings on Meituan, an online food delivery app. We expect to win the hearts of our customers, and the price cannot be set too high."
Money and study
Dining is not the only business Colak invests in. He is a veteran exporter and importer of commodities including textiles, motorcycles, olive oil and pistachios.
As for Colak, the COVID-19 pandemic is "not all bad news".
"The virus is not well controlled in many countries, productivity has dropped, and businessmen have turned to China, which is a great business opportunity," he said.
But this also means a downside for importers and exporters, as shipping costs are soaring despite a growing number of orders pouring in to recoup dwindling production overseas.
"The bad thing is that although many foreign factories have ground to a halt, the freight container price has increased from $3,000 each to $10,000 each," he said.
"We thought the shipping price would be cheaper in March, but we were stunned that it went even higher after the Spring Festival holiday to $8,000-$10,000... I wonder how things will be in August and September."
Still, Colak loves to preach his core corporate belief: "Keep your price cheap, serve clients well, coordinate orders and factories, never make short-sighted deals, work on long-term business as foreign trade industry requires more attention to details."
Colak graduated from Fuzhou University with a bachelor's degree and majored in economics and international trade. He has been pursuing a doctorate in economy management there from 2018.
Honorary citizen
In December last year, Colak and other 12 individuals were awarded the honorary citizen title by Fuzhou's mayor You Mengjun. The title is the highest honor paid by the city to foreigners.
The mayor said these honorary citizens "take Fuzhou as their second hometown", engage in businesses and charity to promote local development and public welfare and contribute to the city's image-building both at home and abroad.
For Colak, one of his dreams is to teach business management as a part-time lecturer in colleges and universities in China.
"I dream of becoming a teacher in higher education institutions. I have a lot of experience now and have been to many countries. I'm going to pass it on to young people. Young people lack experience, while we are not short of experience," he said.
When asked about his advice on how foreign businessmen can blend with China, Colak noted that some people fall in love with this place, while some others fail to get into the market.
"They must understand what the local people are happy and sad about," he said.
As for Chinese firms operating overseas, he noted that there are risks, and what they have in hand is capital, capability and technology. "Win-win is the key."
Most Popular