Going green steals show for fashion industry
Share - WeChat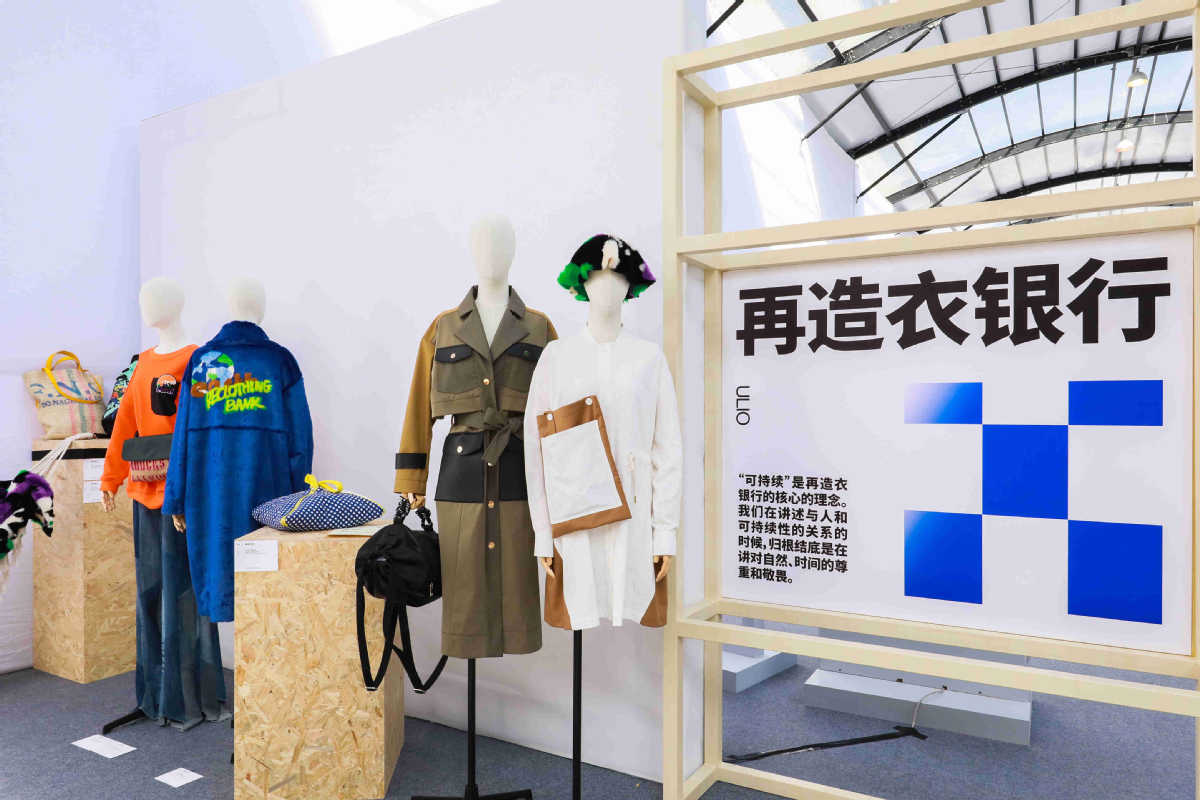 Sustainability fast gaining traction in sector
Sustainability was the watch-word at the 2021 Autumn/Winter Shanghai Fashion Week, with nearly half the brands that launched new collections integrating environmental protection concepts into their products, according to organizers.
The brands included Reclothing Bank, which raised eyebrows last month at MODE Shanghai, the event's trade show, with its display of a blue "fur" coat made from fully degradable corn fiber.
Zhang Na, founder of Reclothing Bank, a local label that has used sustainable materials since its launch in 2011, said: "Nature is full of creativity. We use recycled bottles to develop hundreds of fabrics. We salvage discarded fishing nets to make renewable nylon, and we have now turned some crops, including corn stubble, into degradable fur."
Other local brands to jump on the sustainability bandwagon include Mithworld, which launched a new collection of clothes made from plant fibers, and Tuyue, which showcased garments crafted from recycled materials.
Yang Yingying, founder of Tuyue, said: "Since the pandemic emerged, we have shifted our focus from the connection between humans and ego to that between humans and nature. Sustainability is one of our core tasks now."
Awareness of the importance of sustainability has also been rising among consumers.
More than 67 percent of consumers said they pay attention to sustainable fashion products, while 26 percent would buy such products, according to a survey in 2019 by the China National Textile and Apparel Council's Office for Social Responsibility. Only 2 percent of respondents said they were not interested in sustainable products.
Wang Qi, professor of marketing at the China Europe International Business School, said that as the world's second-largest polluting industry (after oil), the fashion sector's impact on the environment needs to be addressed urgently.
The industry's carbon emissions account for nearly 10 percent of the total, and are even higher than such discharges from the aerospace industry, Wang said.
The biggest source of carbon emissions in the fashion industry is the use of petroleum to produce fiber, she added.
According to the China National Textile and Apparel Council, the country produced 54.6 million metric tons of fibers in 2018, with 83 percent of them synthetics derived from petroleum.
However, the situation is changing globally, with players throughout the supply chain, including yarn producers and textile manufacturers, channelling resources and efforts into addressing the problem.
In March, at the Intertextile Shanghai Apparel Fabrics and the Yarn Expo Spring shows in Shanghai, sustainable materials were in the spotlight, with textile companies from around the world jostling to attract customers keen to embrace sustainability.
The China Fibers Fashion Trends Report for 2021 to 2022 cites "green fiber", including biodegradable, natural, regenerated and recycled fibers, as the industry's top trend.
Duan Xiaoping, chairman of the China Chemical Fibers Association, said: "With growing attention being paid to caring for the environment, chemical fiber manufacturing has turned from consuming resources to coexisting in harmony with nature. Green industrial chains and sustainable solutions are the new trends."
Chen Xingfu, chairman of Zhongyuan Group, one of China's major yarn producers, said that since 2014, the company has instructed all its product lines to use recycled polyester instead of virgin polyester.
Products in the company's Recoyarns series are made from used plastic bottles-reducing water and energy consumption, carbon dioxide emissions and pollution. Last year, the group sold more than 100,000 tons of recycled yarn to well-known brands such as Zara, Nike and Adidas.
Chen said: "Seven beverage bottles can make one T-shirt. Every year, we recycle more than 10 billion plastic bottles …We are aiming to double production next year."
All major Western fashion companies will stop using virgin polyester and use recycled materials in five to eight years, Chen estimates, as there is growing demand for recycled fibers in the United States and Europe.