A way and a 'Y' to go
By ZHU LIXIN in Huangshan, Anhui, and WANG JIAN in Wuyuan, Jiangxi | China Daily | Updated: 2021-05-06 10:18




Share - WeChat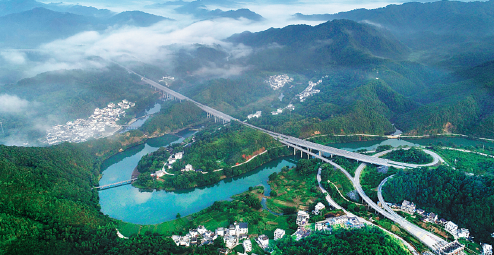 The ancient Chinese character qu, meaning roads reaching all directions, has been retained not only in contemporary language but also in its meaning.
It appears, for instance, in the centuries-old name of Quzhou city in East China's Zhejiang province, which neighbors Anhui, Jiangxi and Fujian provinces, because the city serves as a gateway to these regions.
But today few settlements big or small aren't connected by expressways, even in mountainous regions in places like Anhui, Jiangxi and Zhejiang.
Since its completion in 2006, the roughly 150-kilometer Jingdezhen-Wuyuan-Huangshan (Changshan) Expressway has served as a main route connecting Jiangxi's Jingdezhen city and Wuyuan county, Anhui's Huangshan city and Changshan county in Zhejiang's Quzhou.
The Y-shaped expressway leads from Jingdezhen in the west, which is celebrated as China's "porcelain capital", and bifurcates in Wuyuan toward Huangshan in the northeast and toward Changshan in the southeast.
"The expressway was the first of its kind in Wuyuan and has put the county on the fast track for development," said Shan Changhua, an information official of Wuyuan's Party committee.
The county received over 23 million tourist visits in 2019, generating 20 billion yuan ($3 billion) in revenue, the local government reports.