A way and a 'Y' to go
By ZHU LIXIN in Huangshan, Anhui, and WANG JIAN in Wuyuan, Jiangxi | China Daily | Updated: 2021-05-06 10:18




Share - WeChat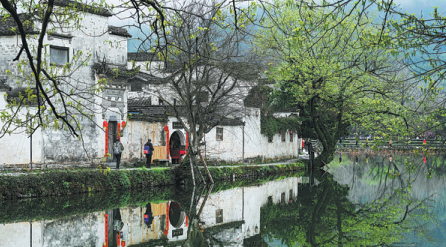 Delicate carvings
The houses are typical Huizhou-style architectural marvels featuring delicate carvings on wood, brick and stone. Many were built by ancient Huizhou merchants. Huizhou prefecture was the old name of Huangshan city, which governs Yixian.
Heritage-protection authorities said the city now has more than 8,000 ancient Huizhou-style houses.
"It's because Huangshan is a mountainous region that was seldom disturbed by wars that its ancient houses could be much better preserved than other areas of the country," said Hu Weimin, marketing manager of Yixian Huihuang Tourism Group, which runs 13 of the county's 17 major tourism attractions.
This is reflected by the fact that the city's forest coverage exceeds 80 percent.
The buildings' elaborate interior carvings contrast with the simple and clean white exterior walls and gray roof tiles.
"In early April, when the ancient villages are surrounded by yellow canola flowers, the scenery is very much like a watercolor painting," said Hu.
The scenery also attracts thousands of art students, Hu said.
And these landscapes are similar to those found in Jiangxi's Wuyuan county.
In ancient times, Huizhou prefecture governed one urban area and six rural counties, including Yixian and Wuyuan.
Wuyuan became a part of Jiangxi province in 1949, shortly before the founding of New China.
"The expressway has also played an important role in keeping Huizhou's culture intact by enhancing exchanges between Huizhou's former jurisdictions," Hu said.
Contact the writers at zhulixin@chinadaily.com.cn