A way and a 'Y' to go
By ZHU LIXIN in Huangshan, Anhui, and WANG JIAN in Wuyuan, Jiangxi | China Daily | Updated: 2021-05-06 10:18




Share - WeChat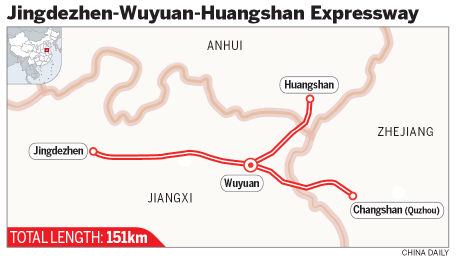 Increasingly convenient transportation has brought more travelers to areas across Huangshan.
Xidi and Hongcun villages, which are about 18 kilometers apart in Huangshan city's Yixian county, are jointly listed as a UNESCO Cultural Heritage Site and are colloquially referred to as "the country's most beautiful villages", thanks to their natural landscapes and ancient buildings.
The plates of the cars and buses that pack their major parking areas-Xidi's has about 1,200 parking spots and Hongcun's has about 1,500-reveal most vehicles are from nearby provinces, such as Zhejiang and Jiangxi.
The villages are known for their histories and preserved residences built in the Ming (1368-1644) and Qing (1644-1911) dynasties.