An ancient village at the crossroads of time and space generates new vitality
By WANG JIAN in Wuyuan, Jiangxi, and ZHU LIXIN in Huangshan, Anhui | China Daily | Updated: 2021-05-06 10:12




Share - WeChat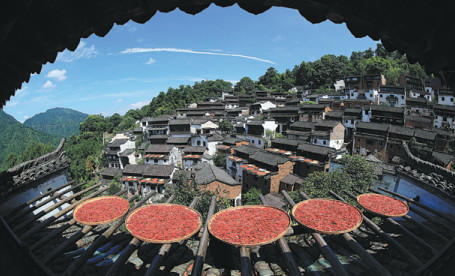 Huangling village only won national acclaim following the opening of Wuyuan county's first expressway, the Jingdezhen-Wuyuan-Huangshan (Changshan) Expressway, in 2006.
Three years later, villagers and local officials began developing tourism in the settlement in Jiangxi province's Wuyuan county.
The roadway's efficacy in luring visitors has also been boosted by its location between Jingdezhen and Huangshan cities, both of which are major attractions in their own right.
Around 2009, Huangling's villagers earned around 3,500 yuan ($540) a year on average.
In 2012, Cao Jiaxiang quit his job in Hangzhou, capital of East China's Zhejiang province, and returned to Huangling.
"In Hangzhou, I was able to earn at least a decent life," the 46-year-old recalled.
"But back in my hometown, I know I can make greater contributions to my fellow villagers."
He began growing canola after his homecoming. The flowers bloom in March, creating a yellow blaze against the background of white-walled, gray-roofed Huizhou-style houses, surrounded by green mountains. These ancient-style residences spill down the mountains that soar to nearly 100 meters at their peaks.
The village is rated as a national 4A scenic spot-the second highest level. It draws visitors from around the country and world throughout the year, who come to savor its picturesque landscapes.
In autumn, farmers fill bamboo trays with red chilies, chrysanthemums and corn for air drying and winter storage, conjuring yet another magical scene on the slopes.
Inspiring tradition
This tradition inspired Cao to organize villagers to arrange the chilies and crops like a massive Chinese flag to celebrate the National Day holiday in 2014, and photos of the event went viral online.
Many photographers have since flocked to the area.
"There are a lot of great shots year-round," Cao said. "People often ask me for advice as to the best places to shoot."
The influx of visitors has led many villagers to open restaurants and guesthouses in their homes.
And tourism development also means per capita incomes now average about 40,000 yuan, indicating locals' life quality is improving in pace with visitors' experiences.
Contact the writers at wangjian@chinadaily.com.cn