Wuzhen the stage for theater's best
Share - WeChat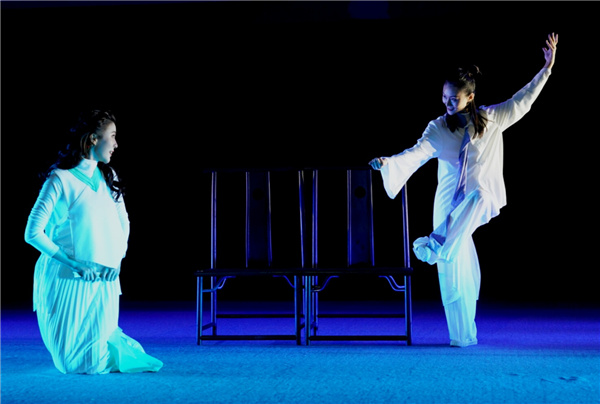 Besides being an actor, Ding made his directorial debut in 2015 with his play, Macbeth and Fleance, which was inspired by William Shakespeare's classic tragedy.
The same year, Ding was invited to the world-acclaimed Odin Teatret in Denmark to work with Eugenio Barba, one of Europe's leading directors.
In 2017, Barba, who is a fan of Tang Dynasty (618-907) poet Li Bai, recommended Ding to make a play about the poet. The idea turned out to be a play, titled Dream of a Drunk Poet, in which Ding worked with an ensemble of traditional Chinese opera performers, Chinese classical dancers and young musicians.
The cross-cultural atmosphere of the theater enabled Ding to absorb different performing styles and learning to borrow different cultural elements into his own works.
With each works he brings out, Ding tries to experiment his ideas and to create a space for people to think.
While pursuing his master's degree in performance making at Goldsmiths, University of London, Ding read Injustice to Tou'O, or Snow in Midsummer, a tale by Guan Hanqing, a prominent playwright and poet of the Yuan Dynasty (1271-1368) and adapted into a play with the same title in 2016.
In the play, Ding not only directs but also plays the leading role, Dou E, a woman, who is wrongly convicted of murder by a corrupt court official. When the play was staged during the Wuzhen Theater Festival in 2017, tickets sold out within eight minutes.
Ding is a doctoral student of directing at the Central Academy of Drama in Beijing.
In March, he will launch his 2021 national tour with his three directorial works: Injustice to Tou'O, The New Romance of West Chamber and Frankenstein: Paradise Lost In Darkness.