Wuzhen the stage for theater's best
Share - WeChat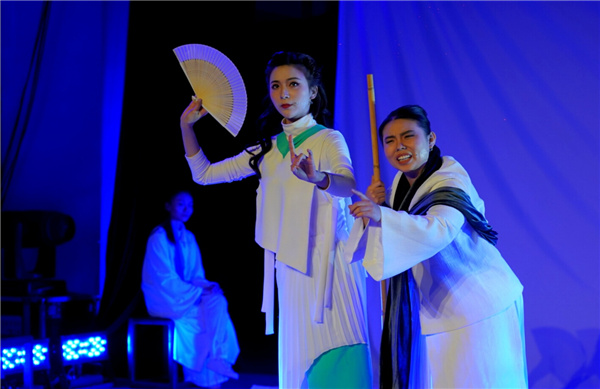 Though it was pretty challenging to be a part of a reality show with cameras on 24 hours a day, Ding soon warms up.
The seven men have a rich and varied history. They include 42-year-old actor Liu Xiaoye, who has been collaborating with pioneering Chinese theater director Meng Jinghui for two decades and has performed in more than 6,000 plays. Actor-director Liu Xiaoyi, 35, is the puppetry director of the Chinese version of the stage production of War Horse and 29-year-old Liu Tianqi, whose directorial debut work, Rabbits and Chickens, won the Best Drama Award at the Emerging Theater Artists Competition of the 7th Wuzhen Theater Festival in 2019, soon show the audiences why theater charms.
The result is exciting and rewarding.
Their first mission was to make a play, titled The Story of Chicken Farm, within two days. Liu Tianqi and Ding worked on scripts and as directors. The other members also made contributions. For example, Liu Xiaoyi handmade all the stage props. Ding, who brings his guitar with him and often improvises, also composed and sang in the play. The play, which is about a little hen who doesn't want to lay eggs like other hens but yearns for the big ocean that she has never seen before, was well received.
"Theaters may be empty due to the coronavirus pandemic but the shows go on," commented a fan under the reality show's Sina Weibo platform. "I see the hard work behind the bright lights and I am really touched by their passion for theater," said another fan.
With over 40 million followers, Huang wrote about his intention of initiating the reality show on his Sina Weibo platform the day after Theater For Living premiered that he simply wants to let more people know these great theater actors and directors because theater still caters to a small group of audiences compared to pop music or movie in the country.