Hutong life stands test of time in Beijing
Share - WeChat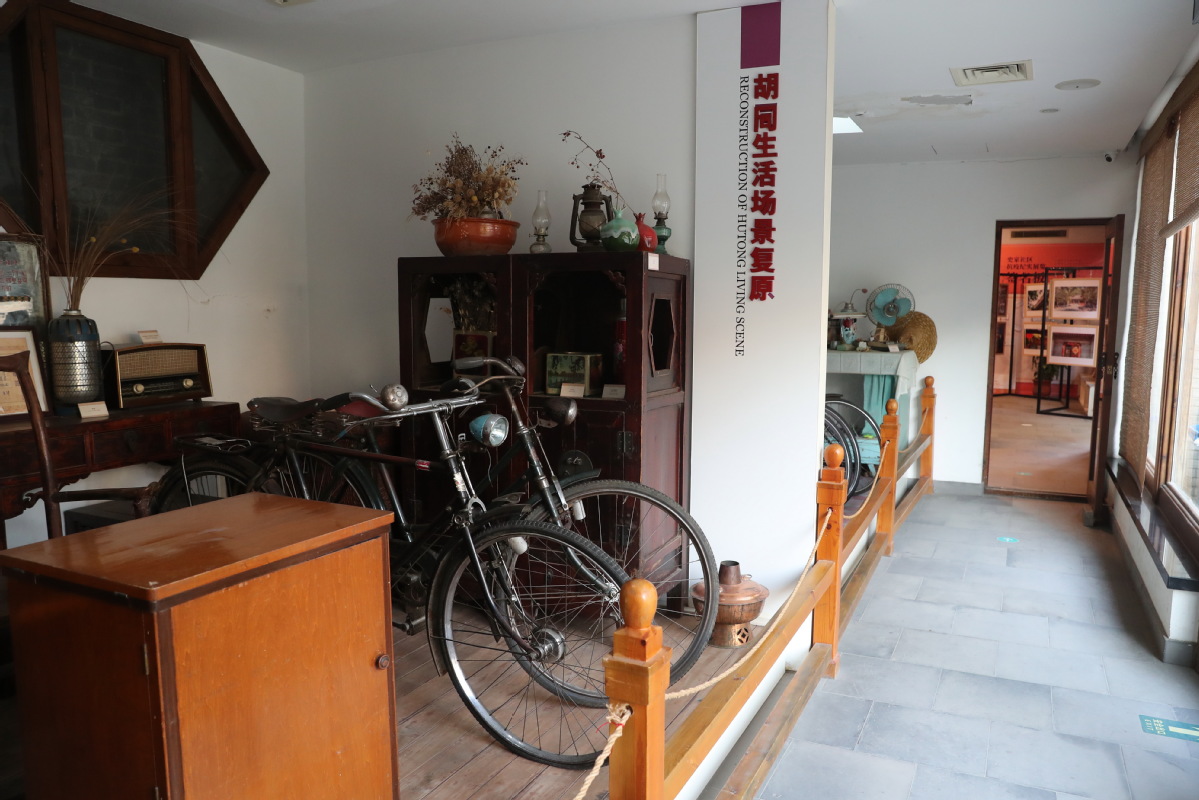 Shu Yi, former curator of the National Museum of Modern Chinese Literature and son of the novelist Lao She, is a firm advocate of preserving Beijing's ancient buildings.
"The city would lose its charm as an ancient capital if there were only modern buildings. It's fortunate that some precious heritage, such as hutong and siheyuan, is being preserved, regardless of how we develop," he said.
A tablet at the Shijia Hutong Museum bears an inscription written by Shu. In 2018, he described his hutong life in a book titled The Story of Hutong. This work features articles by 46 celebrities, including historian Ji Xianlin (1911-2009), novelist Shi Tiesheng (1951-2010) and writer Bi Shumin, who was born in 1952.
The Beijing City Master Plan (2004-20) includes the concept of protecting the city's hutong areas and courtyard architecture, focusing in particular on the effective preservation of original layout and style.
In China's urban planning, courtyards are among the main considerations for architectural conservation, as they remain an important cultural vehicle. According to the website of the Beijing Municipal Institute of City Planning & Design, 1,320 hutong in the city have been recorded and protected.
Vibrant hutong areas, including Dashilar, Nanluoguxiang and Wudaoying, attract thousands of visitors in Beijing.
These narrow, tree-lined streets of single-story, gray-brick buildings are home to bars, upmarket craft outlets, coffee shops and restaurants. However, in the Chaoyangmen area, Shijia Hutong, Yanyue Hutong and Lishi Hutong are not so commercial.
Liu said her team has devoted its efforts to protecting and renovating courtyards and hutong areas through projects such as the Micro Garden Series (2015-19).
This initiative, launched with the Beijing Municipal Institute of City Planning &Design and the Central Academy of Fine Arts, combines participatory planning, water conservation and vertical greenery to aid the overall improvement of a community.
The Our Courtyards project, which ran from 2014 to 2017 and included renovation work on toilets and power supplies, helped people from seven multi-family courtyards improve their living conditions.
Liu said residents in hutong areas have set up tiny, differently shaped garden plots on corners or in areas shared by a number of families. These plots are cheap to run.
The Our Courtyards project also aimed to act as a "residential design experiment" for the hutong community. It examined the possibility of landscape architecture being introduced gradually to urban regeneration in densely populated old areas of Beijing.
"There are still many people living in hutong areas and we want to preserve the sense of identity and character," Liu said.