Humble nang becomes big business for Xinjiang bakers
Share - WeChat [Video by Ma Chi/chinadaily.com.cn]
After returning to his village in Kashgar prefecture in the Xinjiang Uygur autonomous region as the gold medalist of the prefecture's first nang craftsmanship competition, Abdulxukuer Amar said he has realized that nang, a baked flatbread and staple food for the Uygur ethnic group, has more potential than he had ever imagined.
Abdulxukuer, 40, is a nang master of Wuzailikumu, a village in Yuepuhu county. His family has been running a nang bakery in the village, with two traditional nang pits made of clay and heated with firewood, for six generations. The bakery is just off the main road linking Yuepuhu and Jiashi county, and is a popular stop for travelers who need to stock up on nang for their journey.
"Every village in Xinjiang has a nang master baker who is well respected because Xinjiang people cannot live without nang. The family bakery had remained the same for centuries and always provided us with a stable income. But now I've decided to break the mold and make some changes after seeing how making nang has become a big business in Kashgar," Abdulxukuer said.
Abdulxukuer was among the 135 nang master bakers who took part in the nang craftsmanship competition on June 28 in the city of Kashgar. Although he won the gold medal for presenting the judges with nang baked to perfection using his family's recipe, he felt he actually lost.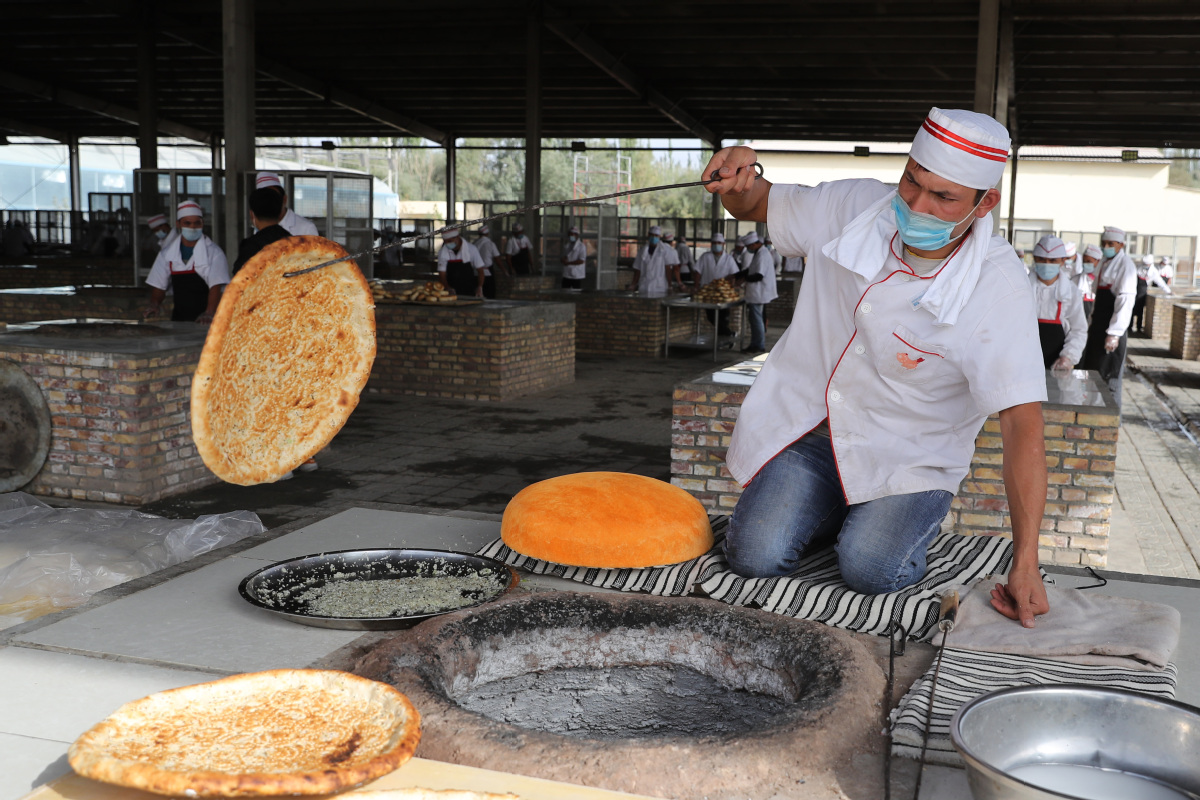 "With support from the regional government, many nang masters I competed with had already started nang cooperatives and were selling nang online to people around China. Their businesses are booming. I never imagined that nang could be so popular and marketed this way," he said.
In 2018, the regional government decided to boost the development of the nang industry because nang is a specialty of Xinjiang and has over 2,000 years of history. Also, nang has more than 300 varieties and must be handmade. By boosting the industry, many people can find employment in their locality and lift themselves out of poverty, according to a report on Xinjiang's nang industry published in July.
Booming business
The report, jointly conducted by the regional government and the regional association of industry and commerce, said Xinjiang now produces an average of 650 metric tons of nang a day, which is sold to 21 provinces and regions around China. Nang is particularly popular among customers in Beijing, Shanghai, Shenzhen, and Hainan province.
To meet the demand of nang lovers, nang industrial parks have been set up around Xinjiang. The one in Jiashi county successfully caught the attention of Ark Kadeer, with a giant nang pit built at its entrance.
"I drove by the industrial park on my scooter in September last year and saw the giant nang pit. I was told that it's a nang factory and they were looking for nang master bakers to run it. I then decided to have a go," the 31-year-old said.