Pandemic's long-term effects fuel debate
Share - WeChat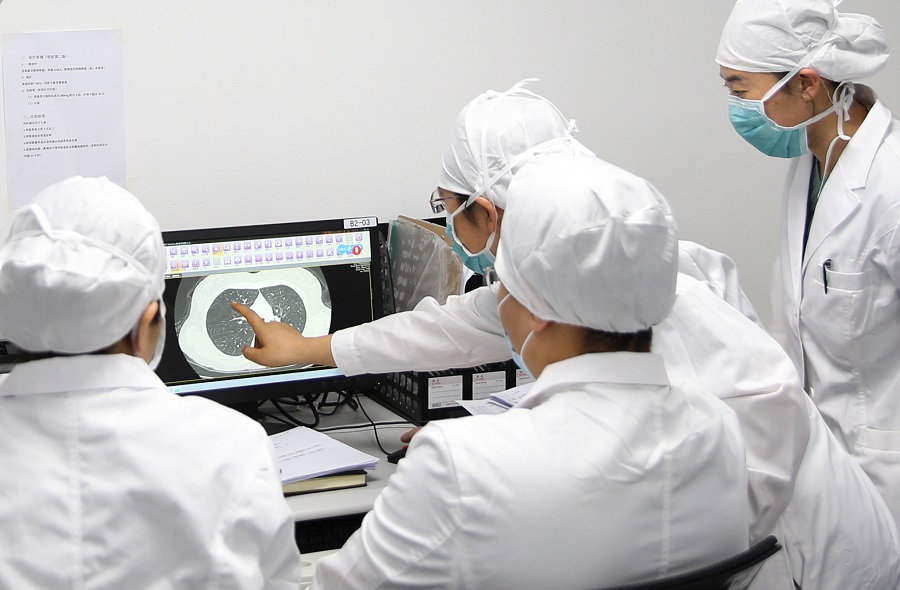 As she left a hospital in Wuhan, Hubei province, on Feb 15, Ouyang Jianglin was struggling.
Recovering from a severe infection of COVID-19, she coughed and had to pause frequently on her way to a bus taking her home for a period of quarantine.
Before being hospitalized, the 67-year-old Wuhan native rarely exercised and had hypertension. In the hospital, she was on oxygen therapy and had to eat with a gulp of water, as she was too weak to swallow normally.
Her son, Ye Xianwei, said: "Surviving her ordeal knocked the wind out of her. She had a slight fever for a week after leaving the hospital, her stamina dropped noticeably and she often felt tired after doing daily tasks such as cooking."
Ye said that after five months in which his mother underwent two checkups, her health greatly improved, apart from occasional tightness in the chest. Computerized tomography scans also detected small hazy areas in the patient's lungs.
"She still needs to stop frequently to catch her breath if she goes for a walk while wearing a face mask," Ye said. "Doctors said they don't recommend that she takes additional drugs, and have advised more rest. The good thing is that she does not have any scarring of the lungs, which is a serious condition."
Lung scarring, known as pulmonary fibrosis, is a chronic and progressive disease in which the air sacs of the lungs stiffen and become scarred, making it difficult to breathe. There is no cure, but the condition can be slowed via therapy, according to the British Lung Foundation.
Last month, a healthy woman in her 20s in the United States became severely infected with COVID-19, experiencing irreversible lung damage. She later became the country's first patient with the disease to undergo a successful double-lung transplant.
The case added fuel to the ongoing debate about the potential long-term effects of COVID-19. A considerable number of convalescents have reported prolonged symptoms, including coughing, fatigue and losing their senses of taste and smell, according to the World Health Organization.
The medical consensus worldwide is that it is still too early to talk about the long-term consequences of COVID-19, as the pandemic has been raging for less than a year and researchers are constantly learning about the coronavirus.
However, in recent weeks, researchers have begun to see ways in which mild or severe symptoms of the disease may persist among patients, both young and old. These include lasting damage to the lungs, the possibility of triggering diabetes, kidney and liver dysfunctions, and damage to the brain or nervous system.
However, only a limited amount of data, which is inconclusive, is available to medical professionals. As a result, scientists are calling for more vigilance and for research into whether such long-term symptoms are part of the recovery process or the disease itself.