Agricultural economy key in poverty fight
Share - WeChat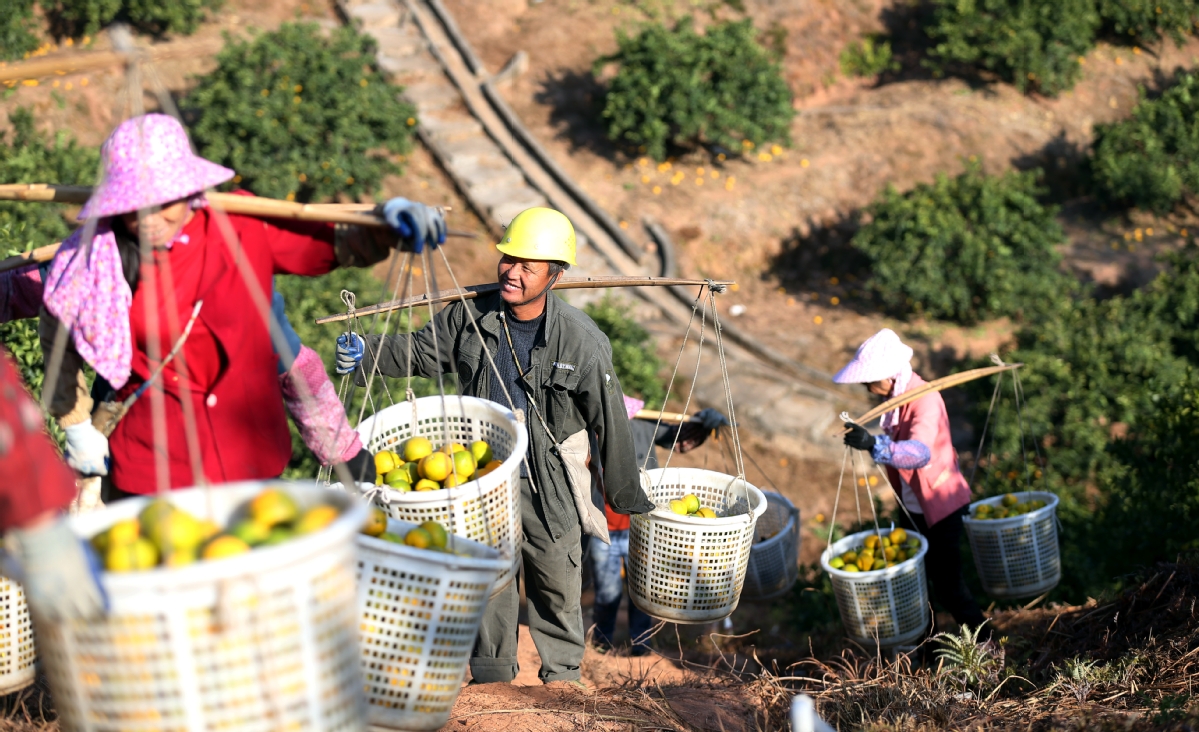 Editor's note: As this year's sessions of the National People's Congress and the National Committee of the Chinese People's Political Consultative Conference prepare to open next week, China Daily will publish a series of stories focusing on the achievements that have been made and major issues expected to be discussed at the two sessions.
A lawmaker wants to see sales platforms linking farmers with consumers built in rural areas to boost agricultural revenues.
A political adviser is proposing more benefits for grassroots agricultural technicians to encourage young talent to enter the field.
With China less than eight months away from its deadline for ending domestic poverty, politicians are targeting rural affairs and poverty issues in their proposals for the two sessions-the annual gatherings of the National People's Congress, the top legislature, and the National Committee of the Chinese People's Political Consultative Conference, the top advisory body-which are set to open in Beijing next week.
The events are customarily held in March, but were postponed this year due to the novel coronavirus pandemic.
Poverty relief has been one of the most discussed topics in the political arena since late 2012, when China ramped up efforts to stamp out absolute poverty by the end of 2020.
The topic is expected to draw even more public attention this year, as top officials have reiterated the central government's determination to reach its zero-poverty goal on schedule despite COVID-19.
The novel coronavirus outbreak triggered widespread travel bans and production stoppages this year, leaving many migrant workers-the major breadwinners in many impoverished households-temporarily without any income.
It has also led to poor sales of farm produce because of disrupted logistical chains and flagging consumer demand, highlighting growers' vulnerability in times of crisis.
Zhang Jindong, a legislator from Jiangsu province and chairman of Suning.com, an e-commerce retailer, said Chinese farmers have long grappled with information asymmetries, which has led to a lack of distribution channels and taken a toll on rural incomes.
"There are limited channels for farm produce and rural specialties to reach the consumer market," he said, adding that was partly because the aging rural population struggles to navigate in the e-commerce arena.
To address the woes, Zhang proposed that village authorities build platforms to help connect local farmers with consumers using e-commerce and modern logistics services.
He also suggested that the authorities roll out tax breaks, funding support and other favorable policies to attract entrepreneurial young people back to the countryside to facilitate the task.
Another problem facing farmers is the lack of technological support, which is crucial to boosting agricultural productivity and rural revenues and ensuring national food security.
Huang Zonghong, a political adviser from Guizhou province, a major battleground in the fight against rural poverty in southwestern China, said few people were willing to work as agricultural technicians in the countryside due to low salaries and the lack of chances for promotion.
"The trend is worth noting, as it bodes ill for agricultural modernization," said Huang, also the deputy head of the Guizhou Academy of Agricultural Sciences and chairman of the Guizhou branch of the Jiu San Society, one of eight China's non-Communist parties.
Huang suggested better pay and more training opportunities for agricultural technicians in rural areas and the creation of channels for promotion in an effort to retain talent.
Contact the writers at lilei@chinadaily.com.cn