Krugman argues against 'zombies'
Share - WeChat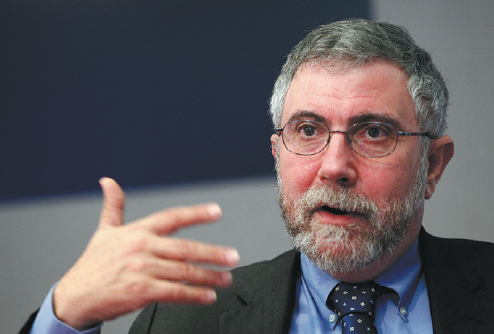 Paul Krugman, the Nobel Prize winner and author of the recently published Against the Zombies: Economics, Politics and the Fight for a Better Future. [Photo by BRENDAN MCDERMID/REUTERS]
Paul Krugman, the Nobel Prize-winning economist, insists that the US administration had an exaggerated sense of its own economic might when it launched a trade war against China.
In his characteristic provocative new book, Arguing With Zombies: Economics, Politics and the Fight for a Better Future, he says it had lashed out at Beijing "mainly on a vague sense of grievance" with "no endgame in sight".
As a result, it is having to bail out US farmers to the tune of $28 billion over two years, which is more than the auto industry received in 2009 after the global financial crisis, and US consumers are having to pay more for their goods, according to Krugman.
"Americans tend to overrate our ability to push other countries around," he says.
Krugman, 67, says he decided to publish the book now to counter some of what he sees as the "zombie" ideas that are likely to dominate the US presidential race.
"Well, it's an election year, and there are a lot of zombies infesting political debate. So, this seems like a good time to call them out in the hope that at least some people will realize that they're being told things that aren't true," he says.
"And the most important zombie out there is climate-change denial. The day of reckoning there is coming, and it's existential."
The book is a collection of his columns for The New York Times, where he has been writing since 2000, but also contains other writings. Around a third is devoted to the aftermath of the global financial crisis, which he admits he didn't see coming, even though he recognized that a huge housing bubble was emerging in the US.
He says he hopes the book reflects the fact that his academic work and journalistic writing often feed off each other.
"Obviously, there's a big difference between writing 10,000-word papers that reflect years of research and writing 800-word articles that react to current events. But there's a lot of common ground, despite that," he says.
"My research style always emphasized trying to get at the simplest, clearest explanation for economic phenomena, which carries over to journalism pretty well."
One section of the book is entitled The Dismal Science, the description given to economics by the historian Thomas Carlyle in the 19th century because it seemed to always predict gloomy outcomes.