Illustrating compassion
Share - WeChat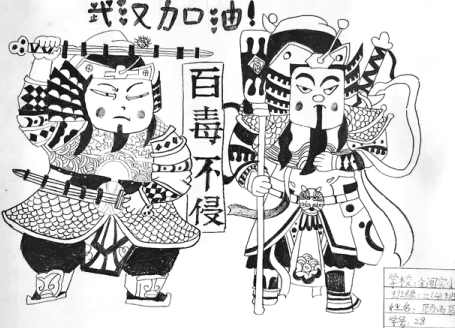 Children from Wuhan receive drawings with encouraging words from children from around the country. The ongoing project, co-initiated on Jan 29, by Olympic champion and retired gymnast Yang Wei, who's with his family in Wuhan, calls for students in other parts of the country to offer those in Wuhan their spiritual support with artworks. CHINA DAILY
"It's normal. We adults also fear it."
He believes children can sense that the current situation is critical. The challenge for parents is to help kids cope with their emotions. Encouraging pictures and words from peers may console them.
"Normal life goes on, even if we can't go out. We're all in a good state, mentally and physically. Our whole family watches news together to know the latest updates on the epidemic," Yang Wei says.
Yang Wenchang also received a picture and video of a child, and he recorded a short video to express his gratitude. He says he's confident that the government will help the whole country end the crisis.
As with other parents, a major part of life in lockdown for Yang Wei and his wife, Yang Yun, is taking care of their boy and 3-year-old twin daughters.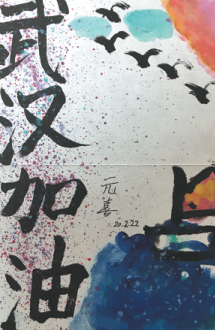 Children from Wuhan receive drawings with encouraging words from children from around the country. The ongoing project, co-initiated on Jan 29, by Olympic champion and retired gymnast Yang Wei, who's with his family in Wuhan, calls for students in other parts of the country to offer those in Wuhan their spiritual support with artworks. CHINA DAILY
In the morning, Yang Wei learns English on his own and helps his son to take online courses created by schoolteachers. The family exercises together in the afternoon.
"We felt at a loss at first. Now, we're pondering our lives and future. How can we put our lives back on the right track after the epidemic?"
The couple founded a sports club in Wuhan that offers youth gymnastics training, and he's thinking about the company's future. It's a common problem for China's entrepreneurs.
"My wife and I are athletes," he says.
"We've honed our adaptability over years of hard training. We've learned that, no matter how hard the situation is, you have to face it. It makes us adjust to the current situation quickly."
Yang Wei says they plan to collect all works and display them regularly in the future to remind people of the epidemic and raise public-health awareness.
Contact the writer at xulin@chinadaily.com.cn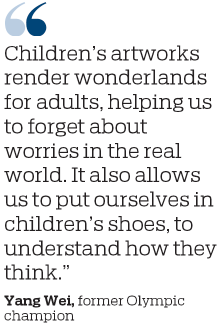 Most Popular