Illustrating compassion
Share - WeChat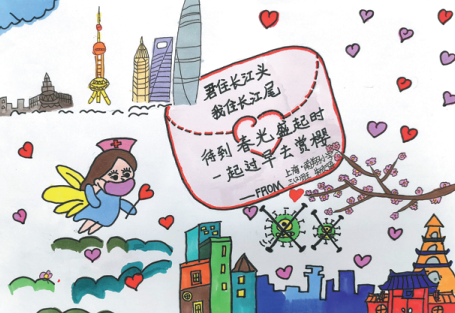 Children from Wuhan receive drawings with encouraging words from children from around the country. The ongoing project, co-initiated on Jan 29, by Olympic champion and retired gymnast Yang Wei, who's with his family in Wuhan, calls for students in other parts of the country to offer those in Wuhan their spiritual support with artworks. CHINA DAILY
Students across China are learning through remote-education platforms since schools remain closed.
Li calls on parents and students to read books or watch videos about the disease in their spare time. She encourages children to read news about the epidemic, help with housework, learn to cook and exercise.
Li suggests that schools put more effort into advancing public health after the outbreak. She plans to establish a lecture room in the school especially for teaching such topics as infectious-disease prevention.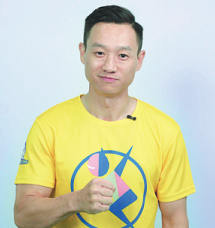 Olympic champion and retired gymnast Yang Wei. China Daily.
Two schools for special education also joined the activity.
Suzhou School for the Deaf and the Blind in Jiangsu province has paired up with Wuhan No 2 School for the Deaf. A total of 94 of the Suzhou school's 130 students ages 4 to 20 joined the event within two days.
"It offers spiritual support for children in Wuhan," says Jin Xiaolei, a Chinese-language teacher from the school in Suzhou.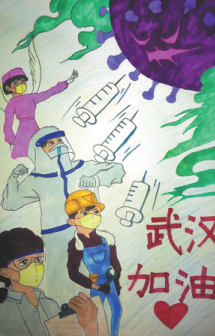 "Our students also learn to care about others and to pay attention to national affairs. We're looking forward to the spring day when we don't have to wear masks.
"Parents are supportive of the activity. They're in charge of shooting short videos of their children. In the videos, the students with visual impairments talk about their thoughts, and the students with speech impairments send their blessings in sign language."
She's moved that two kids with weak vision pressed their eyes against the papers to paint pictures.
"It's also important to teach students about epidemic prevention, citizenship and life at this time," she says.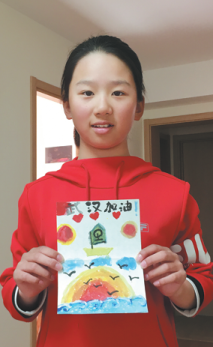 Children from Wuhan receive drawings with encouraging words from children from around the country. The ongoing project, co-initiated on Jan 29, by Olympic champion and retired gymnast Yang Wei, who's with his family in Wuhan, calls for students in other parts of the country to offer those in Wuhan their spiritual support with artworks. CHINA DAILY
The two schools plan to have more scholastic exchanges between teachers after the outbreak.
The Olympic champion, Yang, says: "Children's artworks render wonderlands for adults, helping us to forget about worries in the real world. It also allows us to put ourselves in children's shoes, to understand how they think."
In 2014, Yang Wei and his son, Yang Wenchang, joined the second season of the popular reality show, Where Are We Going, Dad?, which presents celebrity fathers' adventures with their kids.
"My 10-year-old son said he was scared when we first realized the outbreak's severity," he recalls.
Most Popular