Treasures of Shaanxi
Share - WeChat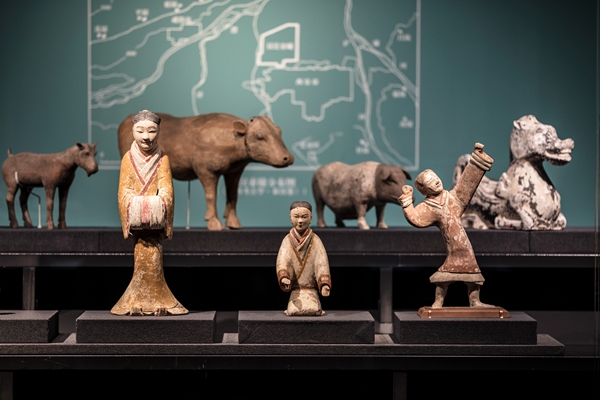 The exhibition unfolds with the majestic momentum of early Chinese history with a display of ancient bronzeware, showing how the ruling classes of both the Shang (c.16th century-11th century BC) and Zhou dynasties set up rules of etiquette, while the increasingly intricate patterns and inscriptions on the bronze items not only reflect the power of their owners but also show what people of the time were thinking about.
The section dedicated to the Qin Dynasty, a strong but short-lived empire, shows the diversity of culture and thought, as well as the strength of its military and political system, which have been continuously enriched through archaeological findings.
The progression from the Han Dynasty to the Tang Dynasty takes the audience back in time where they are offered different angles to view how people lived, what they believed in and the arts they created a millennium ago.
The artifacts present a broad look at the world the Han aristocrats inhabited: works of pottery bear patterns reflecting people's daily lives, while the bronzeware reveal their emphasis on social status, and the gold and jade pieces evince their religious beliefs.
After the fall of the Han Dynasty came a long divided period of some three centuries, which led to a more extensive merging of cultures, lifestyles, social rituals and religions among the different ethnic groups, and eventually ushered in the glorious arrival of the Tang empire.
Most Popular