Treasures of Shaanxi
Share - WeChat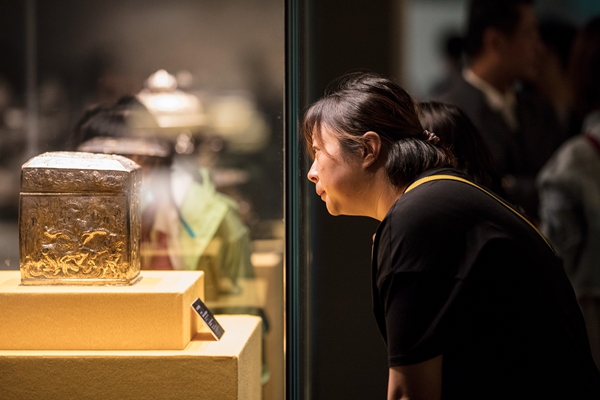 In collaboration with the Shaanxi Provincial Cultural Heritage Administration, the exhibition has been awing visitors with its collection of more than 300 objects drawn from prominent museums and archaeological institutions in Shaanxi, including the Shaanxi History Museum, Emperor Qinshihuang's Mausoleum Site Museum and the Baoji Bronzeware Museum.
It is a celebration of the culture and the arts of the Zhou (c. 11th century-256 BC), Qin, Han (206 BC-AD 220) and Tang dynasties, and to mark the 70th anniversary of the People's Republic of China this year.
Du Pengfei, deputy director of the Tsinghua University Art Museum, says Zhou, Qin, Han and Tang together constitute a long and historic era when China grew to become a major power and developed a diverse civilization that had an extensive influence around the world.
"Moreover, it was during this period of time that Shaanxi rose to be a stronghold of Chinese civilization, and for several centuries, the central region of the province, marked by cities such as Xi'an and Xianyang, became the political, economic and cultural center of China," he says.
"There was no better way than to bring together these cultural relics found in Shaanxi to represent the splendor and prosperity of the four featured dynasties and also the cultural and artistic heights that Chinese civilization reached at the time."
The exhibition will overwhelm viewers not just with the refinement of the objects on show, but also because of the sophisticated workmanship they embody. More importantly, it offers visitors an insight into how Chinese history and the core values of Chinese civilization advanced, according to Tan Shengguang, the exhibition curator.
"The ancient Chinese established order and traditions in accordance with the rules of nature and the universe, which formed the basis for Chinese civilization to develop through continual progress," he says.
Most Popular