A tough act to follow
Share - WeChat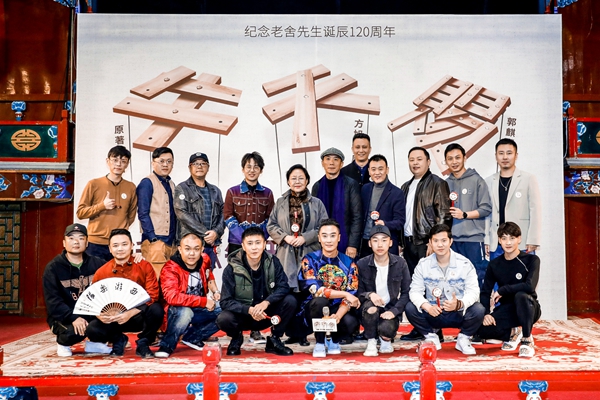 "Adapting The Story of Niu Tianci into a play was very difficult. I had to revise the script again and again over the course of the last year," says Fang, who will use puppets for the first time onstage to perform with real actors to tell the story of the young man.
An all-male 16-member cast will play both male and female roles. Guo Qilin, a 23-year-old crosstalk, or xiangsheng, performer, will play the lead role. Guo's longtime partner and crosstalk performer Yan Hexiang will play the role of Niu's best friend, the personification of a front gate pillar-a role that doesn't exist in Lao She's original novel.
"I have never performed in a play. But I am not nervous because I grew up watching crosstalk shows. To me, theater is a familiar space between me and the audience," says Guo, who is the son of crosstalk comedian Guo Degang.
Guo Qilin has built up a sizeable fan base after he made his debut crosstalk performance in 2011. He has expanded his career into movies and TV dramas.
"After reading the novel, I was surprised to see that Lao She used lots of elements of crosstalk in his work. I later learned that Lao She was a big fan of the genre and even performed it himself," Guo Qilin adds.
Born as Shu Qingchun to a Manchu family in Beijing in 1899, Lao She is best known for his vivid descriptions of grassroots life that reflect social reality and for his precise depictions of local Beijing culture through his unique humor and use of the city's dialect.
His novels, including Rickshaw Boy and Four Generations Under One Roof, and his plays, such as Long Xu Gou (Dragon Beard Ditch) and Teahouse, have earned him fame as a linguistic and literary master worldwide.
Lao She committed suicide in Beijing's Taiping Lake in 1966 during the "cultural revolution" (1966-76), leaving a wealth of work that went on to inspire several generations of writers.
The Story of Niu Tianci was written when Lao She was teaching at Cheeloo and Shandong universities in Jinan, the capital of Shandong province.
For Fang, adapting Lao She's works has become his specialty.
The 54-year-old graduated in directing from the Central Academy of Drama in 2000, and began adapting Lao She's books for the stage in 2011.
His first attempt, a one-man show based on the writer's novel The Life of Mine, tells the sad story of a low-ranking police officer in Beijing in the early 20th century, and was a major success.
Since then, Fang has adapted five of Lao She's works into theatrical productions, including Divorce, Cat Country and Mr Ma and Son.
Like Lao She, Fang grew up in a courtyard house in a busy hutong (alley) in Beijing, which immediately gave him an affinity for the writer and his work.
"I enjoy adapting Lao She's works because it feels like I'm talking to him. His humor and smart language is nothing short of timeless. The characters in his works remind me of my neighbors in the hutong when I was a child. They are so ordinary, vivid and real, which I find fascinating," Fang says.a