A tough act to follow
Share - WeChat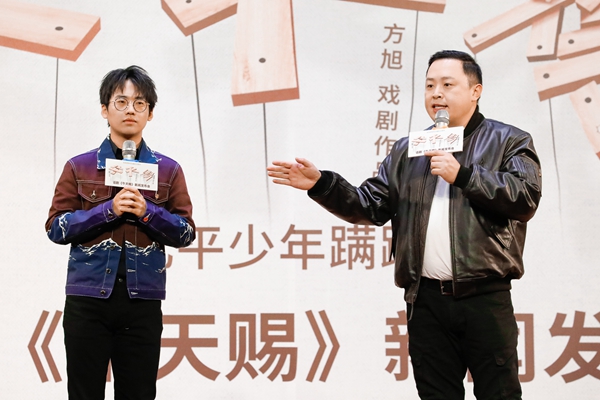 After the success of plays like Divorce and Cat Country, Fang Xu's latest adaptation of another Lao She novel is ready to take center stage, Chen Nan reports.
When a couple with no heirs found an abandoned child on their doorstep, they decided to adopt him and give him the name Niu Tianci-which means "gift from heaven".
That's how Lao She's 1934 novel The Story of Niu Tianci begins.
Unlike Lao She's other novels, such as Rickshaw Boy and Four Generations Under One Roof, The Story of Niu Tianci is less well-known and has never been adapted into a movie, TV series or theatrical production.
However, when Chinese actor-director Fang Xu read the novel a few years ago, he was intrigued by how the protagonist as a young man found out that he wasn't particularly good at anything, yet still had to obey the numerous rules and regulations set down by his parents and society.
Last year, when Lao She's eldest daughter, Shu Ji, 87, discussed the idea of adapting the novel with Fang into a theatrical production, he was quick to agree.
After a year of preparation, the director and scriptwriter is set to premiere his production, titled Niu Tianci, at the Tianqiao Performing Arts Center in Beijing from Dec 25 to 29.
"Both Shu Ji and I agreed that it would be a pity to ignore such a great novel," Fang says at an event in Beijing to promote the upcoming premiere, which falls on the 120th anniversary of Lao She's birth.
"Although the novel was written in 1934, it portrays the growth of a young man, which reminds me of young people today and the philosophy of Chinese parents toward education," Fang says.
As an infant, Niu's hands and feet were bound by his parents to prevent him from developing bandy legs. Niu's mother wanted him to become a government official, while his father hoped he would take over the family business in later life. As a young man, Niu attended the best school and was an obedient student. But contrary to his parent's wishes, Niu learned very little and struggled with the social environment.
Most Popular