Setting a musical course
Share - WeChat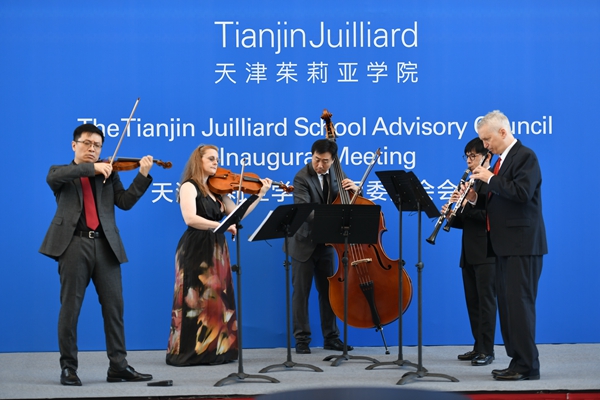 After years of preparation, the Tianjin campus of the Juilliard School of performing arts plays host to the inaugural class of its pre-college program, Chen Nan reports.
When a quintet performed Overture on Zhejiang Folk-Tunes in the lobby of a hotel located in Tianjin Binhai New Area on Sept 16, the picturesque small towns of East China's Zhejiang province were revealed to the audience through music.
The quintet was composed of teachers of the Tianjin Juilliard School, the first overseas campus of the New York-based performing arts conservatory, and included violist Sheila Browne, double bass player Zhang Daxun, oboist Scott Bell and violinist He Wei.
The eight-minute piece, Overture on Zhejiang Folk-Tunes, was composed by musician Niccolo Athens from the United States. He has developed an interest in Chinese folk music since he came to Beijing to study at the Central Conservatory of Music. The 31-year-old, who received his bachelor of music in composition from the Juilliard School in New York in 2010, has been living in China since 2014, and now teaches music in Shanghai. He is also faculty member of composition and ear training of the Tianjin Juilliard School.
"Athens was inspired by Zhejiang folk songs and composed the piece with Western composition techniques. It's a great example of how an American musician is influenced by Chinese folk music," says He Wei, Chinese-American violinist, a member of the quintet. He is also the artistic director and dean of the Tianjin Juilliard School. "It also symbolizes the dialogue between both campuses of the Juilliard School."