Setting a musical course
Share - WeChat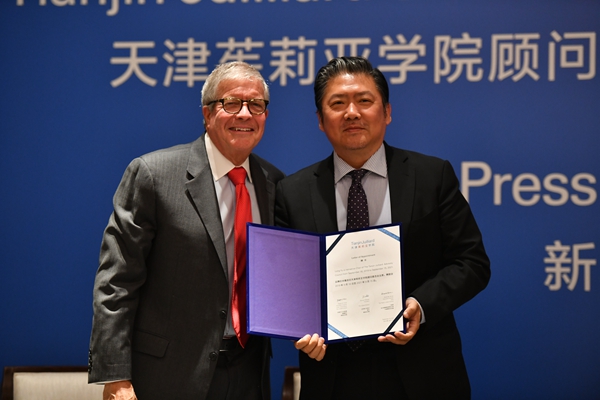 Athens has also rearranged a folk song from Southwest China's Yunnan province, entitled Flowing Creek, to commemorate the breaking of ground for the construction of the Tianjin Juilliard School building in 2017.
After years of preparation, the Tianjin Juilliard School was host to the inaugural class of its pre-college program-modeled on Juilliard New York's century-old pre-college program-on Sept 7. A total of 46 Chinese students from across the country enrolled.
In the fall of 2020, the school's postgraduate studies program will be launched, offering three collaborative majors-orchestral studies, chamber music and collaborative piano. The Tianjin Juilliard's new campus buildings will also officially open at the same time.
"Collaboration is critical for musicians, which enables them to listen to each other and share music," says He, who was born in Chengdu, Southwest China's Sichuan province, and trained at the Sichuan Conservatory of Music before going to the US to study at the San Francisco Conservatory of Music in 1991. "I grew up with playing music alone, which is the situation for many Chinese musicians. With our programs, we want to fill in that need to play music together."
Following the quintet's performance, the Tianjin Juilliard School announced the launch of its advisory council, which is composed of musicians from around the globe. Chaired by the Chinese conductor, Yu Long, who is the musical director of Shanghai Symphony Orchestra and artistic director of the China Philharmonic Orchestra, the advisory council includes 16 members, including Chinese pianist Lang Lang, Chinese composer Tan Dun, president of the Philadelphia Orchestra Matias Tarnopolsky and US soprano Renee Fleming.
"They will share their invaluable experience with our students in Tianjin as well as advising on programs and initiatives to advance the school's mission in China, East Asia, and around the globe," says He.