Chinese violinist to perform at NCPA in Beijing
Share - WeChat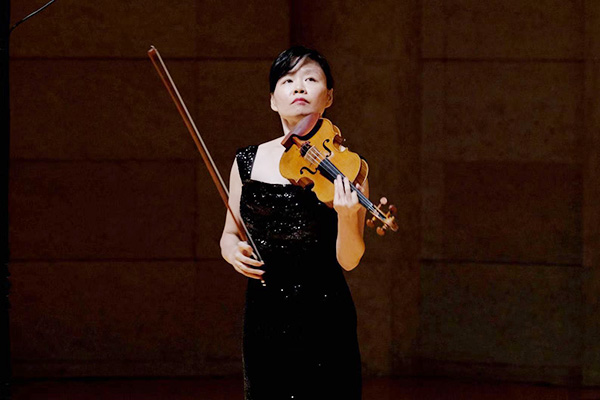 Chinese violinist Huang Bin will give a recital at the National Center for the Performing Arts in Beijing on Oct 13, featuring Beethoven's Sonata for Piano and Violin, Op. 47; Edvard Grieg's Sonata for Piano and Violin No. 3 in C Minor, Op. 45 and César Franck's Sonata for Piano and Violin in A Major.
On Sept 18, the violinist gave a recital at the Forbidden City Concert Hall, playing 24 Caprices for solo violin by Niccolò Paganini.
Huang, who won both the Paganini International Violin Competition in Genoa, Italy, in 1994 and the Munich International Music Competition in Munich, Germany in 1999, has also appeared at the Marlboro Music Festival, where she performed with members of the Beaux Arts Trio and the Juilliard and Guarneri String Quartets.
In September 2019, a recording by Huang, pianist Zhou Yubo, cellist Alexander Suleiman, entitled An-lun Huang Piano Trio 1&2, won an award at the Opus Klassik 2019, Germany's premiere classical music awards.
Huang began her violin studies at age four in China, and entered the Central Conservatory of Music in Beijing at the age of nine. After graduating from the Middle School Affiliated to the Central Conservatory, she went to the United States to study at the Peabody Conservatory of Music, where she earned her Bachelor of Music degree and Artist Diploma. She received her Master of Music and Doctor of Musical Arts degrees at the Eastman School of Music.
She now teaches at the China Conservatory of Music.