Planting a cultural seed
Share - WeChat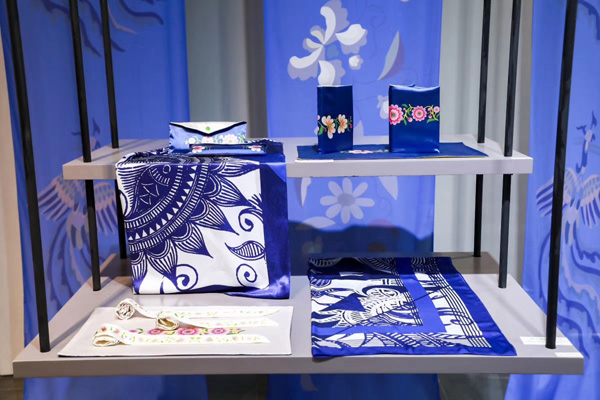 After months of construction, Yongyuan opened in late June.
The southern building which used to be Sanlu Plant's production area now serves a space for the high-end customization and innovation of intangible cultural heritage, while the eastern facility offers immersive exhibition experiences.
The building in the north has been transformed into a retail space, where visitors can buy products such as handmade bags and traditionally created art.
Yongyuan park will focus on the development of intangible cultural heritage. It was set up to allow inheritors to work with designers and find ways to blend the traditional arts more seamlessly into public life.
So far, many inheritors are confined to limited development space, says Li.
The cultural product concept falls behind the times and is separated from modern design and sales, he adds.
"We need to bring together good designers and intangible culture inheritors for product innovation," Li says.
During the opening ceremony of Yongyuan, Beijing Capital Land signed strategic cooperation agreements with a host of traditional art workshops, guilds and institutes of higher learning.
The Beijing company also aims to integrate investment, technological research and retail facilities to further promote Chinese intangible cultural heritage as well as investing in a 5 billion yuan cultural foundation.
The goal is to help every link in the intangible culture industry chain-from designers and inheritors to producers-to solve their problems and convert intangible culture into marketable products with a practical value, Li says.
When a product is created, the Beijing company will invest in its production, increase its added value and help it to gain market presence.
Li says Beijing Capital Land will also use its outlet shops across the country to promote products bearing elements of intangible culture.
To date, the company has also reached strategic agreements with several online retail giants, including Alibaba, JD and Vipshop, to boost sales of these products.
The goal is to enable customers to better appreciate the beauty of Chinese culture and to build uniquely Chinese cultural brand, Li says.
Authorities expect the park to become a testing ground for national efforts in intangible cultural heritage protection.
Most Popular