Testing times for overseas students
Share - WeChat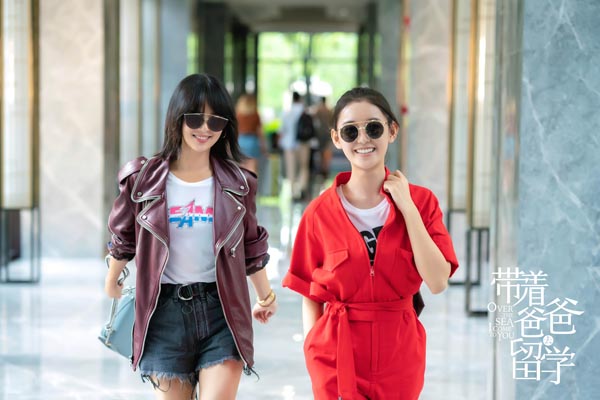 A recent Chinese TV series highlights the challenges of adapting to new culture, Zhu Dunhua reports.
Midnight. Freezing. Another country, far from home. The events of that night are seared in Lucy Zhu's memory. A fully packed suitcase straining to keep its contents from spilling. A long walk to her campus amid a snowstorm in Lansing, Michigan, the United States after a 13-hour-long flight from Beijing.
Large snowflakes flutter onto her clothes as she tries to protect her face and eyes from the wind that cuts like a knife. The bitter cold seems to penetrate her bones.
After the airport shuttle bus dropped her at the bus station, she tried to get a cab or a lift, but to no avail. The late hour and the weather seemed to conspire against her. She had no option but to lug her suitcase for more than 40 minutes back to the university dorm as the-19 C temperature seemed to taunt her for returning after Christmas break.
Zhu, who studied in Michigan State University, part of her seven years spent overseas, recalls that night and other challenges she faced. "It was one of the most unforgettable nights in my early years of studying abroad, and there have been more dilemmas, much harsher than physical cold and pain. Besides trying to adapt to a new environment, I also needed to learn how to live independently using a foreign language."
Zhu's midnight plight, and the sense of despair, have been experienced in various forms by international students. After all, one of the great lessons learned by these students is how to manage outside of the campus. This challenge is reflected in the TV series Over the Sea I Come to You, broadcast on Dragon TV and Zhejiang Satellite TV from June 13 to July 9.
When Zhu, 24, now an employee of an international hotel management company in Shanghai, watched it recently, she was touched by a similar scene. Huang Xiaodong (acted by Zeng Shunxi), a young overseas student, on his first day in a foreign land, drags his luggage in the middle of the night to school after the car he was being driven in breaks down.
Most Popular