Hatsune creator gets diners on a roll with master class
Share - WeChat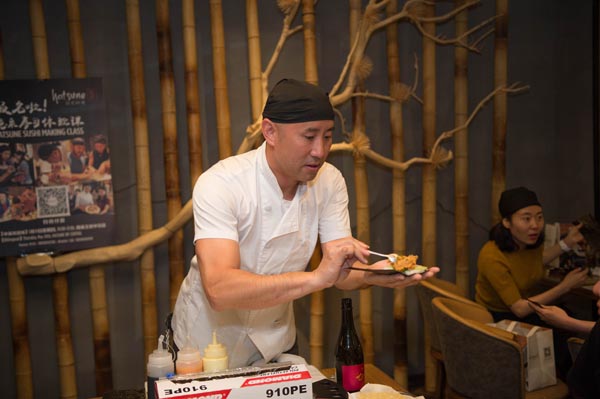 A California roll is an inside-out sushi roll which became popular throughout the United States in the 1980s. Born and raised in California, Alan Wong brought this Californian-style sushi to China in 2001 at his first Hatsune restaurant in Beijing.
The inverted sushi roll has become so popular over the last two decades that it can be found on the menu of almost all Japanese-style restaurants in China.
"It looks good and it tastes good," says Wong. "It uses a small amount of sauce that has a strong flavor, but is not so strong that it overpowers the ingredients."
Wong held a sushi class in Beijing on June 20 at the SKP branch of Hatsune, teaching guests how to make three basic types of sushi-temaki, hosomaki and the California roll.
The class began with Wong teaching everyone how to cover their hair properly and how to wash their hands thoroughly. "Pay attention to hygiene, it is the key to making sushi," says Wong.
"There is a bowl of clean water to wash your hands during the sushi making, and please do not lick your fingers or the rice will stick on your hands," Wong says.
Most Popular