Culture in a box
Share - WeChat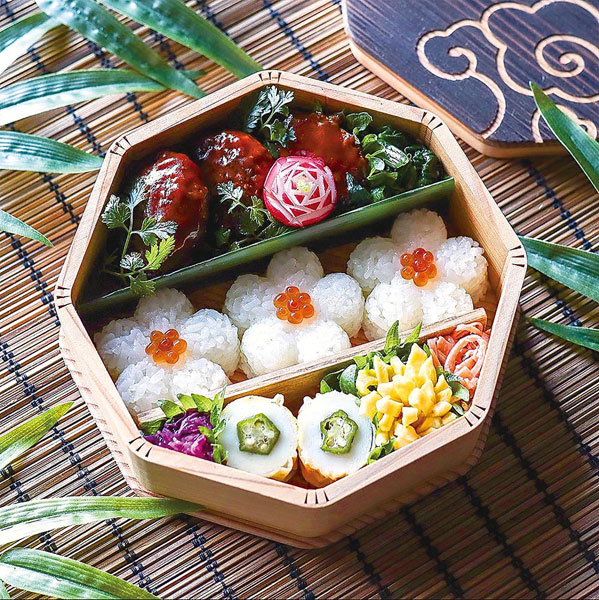 Bento has become a global phenomenon. Get into the art of making lunch
Do you salivate when you see someone else's lunch box turned into an edible work of art? If you answered yes, your favourites are probably on Instagram or other social media applications, where many people post pictures of their home-packed meal boxes – or as the Japanese call it, bento.
Famous for decorating meals with traditional Japanese curved meal boxes, popular blogger Mizuka (@xmizukax) shares her pretty bento pictures on Instagram every day. She usually moulds rice or vegetables into certain shapes, or accumulates a group of small rice rolls into one big flower. Mizuka also sometimes adds pink cherry blossoms and green leaves, bringing viewers a sense of spring.
Then there's Li Ming, a mother who lives in Singapore with her two children and has made many adorable bento pieces for her blog Bento Monsters (@bentomonsters). Her Super Mario-shaped creation consists of strawberries, kiwi, rice and more. There are also bread, sandwiches, sushi and cupcakes featuring Hello Kitty, panda shapes and many other cute characters.
Another bento lover is Mike Kravanis (@omgiri). As a Disney fan and Disney Parks blog reader, Kravanis has been committed to cute bento after a trip to Japan several years ago. His creations for OMGiri take the form of famous Disney characters. Last September, he attended the Epcot International Food & Wine Festival at Walt Disney World in Orlando, Florida to share his thoughts about bento culture. Now we're hungry…
Most Popular