Hatsune creator gets diners on a roll with master class
Share - WeChat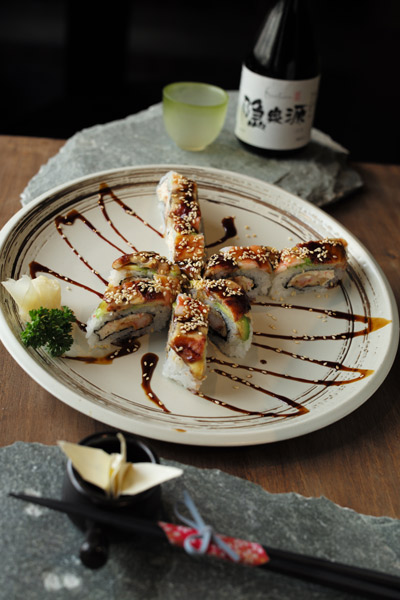 Temaki (hand roll) is the first and the simplest of the three-it's a large cone-shaped piece of nori wrapped around a layer of rice and other ingredients which spill out of the wide end. Unlike other sushi rolls, where the set quantity of the ingredients has to be strictly adhered to, temaki is more casual and liberally filled.
Hosomaki (thin roll) was the second roll the class was taught how to construct. It is a basic roll and can only hold a limited amount of the filling on the rice.
"The key is to put exactly the right amount of rice onto the nori and use your hand to make it even," Wong explains.
The California roll is the most difficult roll for an entry-level sushi class to prepare. So each table, one at a time, carefully watches him perform the steps of its manufacture.
"The trick is to use plastic wrap to cover the rice that has been rolled around the outside of the nori, and after rolling it, do not remove the plastic wrap until the roll has been cut," Wong says.
Wong used to work for a Japanese restaurant when he was studying philosophy at California State University, Sacramento. During those four years he learned how to make sushi, especially California roll.
He moved to China in 2000 and opened Hatsune the following year. Hatsune Japanese restaurant is China's original Californian-Japanese fusion concept eatery, serving Japanese cuisine infused with Californian culinary creativity.
Most Popular