Serving up Asia on a plate
Share - WeChat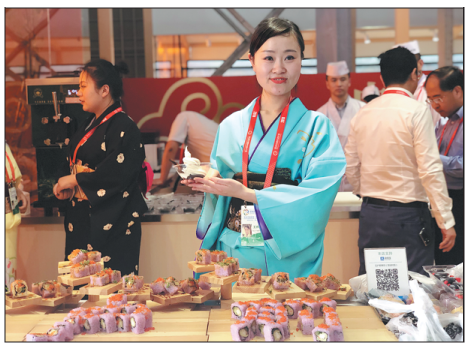 Young people are the biggest fans of Asian food in China, where some 55 percent of the post-1990 generation and around 27 percent of the post-1980 age group regularly enjoy Asian food.
The report also shows that the distribution of Chinese restaurants around Asia is becoming more diverse, and Chinese cuisine has a newer image thanks to time-honored brands and chains.
"Chinese restaurants used to only open up alongside Chinatowns, but now they are spreading all over Asia, especially in East and Southeast Asia," says Chen.
Asian restaurant chains are also growing rapidly in China.
City Garden, a restaurant chain focusing on Singapore cuisine is just one example, as it now has 28 restaurants on the Chinese mainland, including 10 in Beijing, since opening in 2011.
For the food festival, City Garden prepared classic Singaporean dishes such as bak kut teh, prawn crackers and kaya toast.
According to Yang Yuanzhi, City Garden's operations director for the North China market, their chefs enjoyed interacting with visitors at the food festival, and telling them about the history of dishes like bak kut teh, while showcasing their culinary skills by making dishes like teh tarik.
"It's a good opportunity to present Singaporean cuisine and culture, and a chance to talk to our customers face-to-face," says Yang.
Most Popular