Businesses commit to China's future
Share - WeChat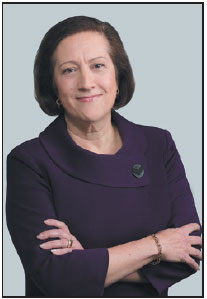 JUDY MARKS, PRESIDENT, OTIS ELEVATOR
A1 In building the world's second-largest economy, China has lifted hundreds of millions of people out of poverty and created a thriving middle class. That has to be China's proudest achievement.
The reform and opening-up policy adopted 40 years ago paved the way for this economic transformation and all it entailed, including urbanization, industrialization and China's own technology revolution.
We are proud of our role in supporting China's drive toward urbanization. We formed our first joint venture here in 1984. Today, we operate five manufacturing facilities and employ more than 15,000 people in China.
A2 Otis is a company built on innovation. Today, some of our most important research and development is taking place in China.
Last year, we inaugurated a new Lead Design Center in Shanghai, our largest research facility in the world. Development work on our next generation of elevators is being done there.
We were also the first elevator company in China to equip mechanics with smartphones - a key component of our global digital service strategy.
A3 Enhanced intellectual property protection for all investors, equal treatment for foreign investors, and other concrete, enforceable protections of investment are key to sustainable growth in China. Any final measure including these elements will be a significant step forward in further opening China's economy to foreign investment.
A4 Data analytics, intelligent machines and the internet of things are redefining how products are designed, factories are run, service is provided, and, most important, what customers demand.
We are investing in these technologies to enhance our products and services to better serve our customers. Likewise, many Chinese companies are taking a similar, complementary path to create opportunities.
A5 We applaud the government's efforts to improve the country's business environment by cutting administrative red tape. We're especially encouraged by the move to make processes more efficient and less prone to bureaucratic bottlenecks.