Businesses commit to China's future
Share - WeChat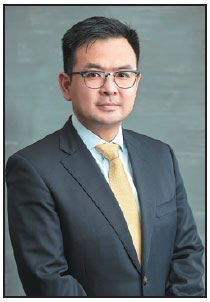 DOUG CAI, PRESIDENT, BOMBARDIER AEROSPACE CHINA
A1 When we talk about transformation or development, I believe every country and every business starts with a simple desire - that is, to make people's lives better. While it took Western countries roughly 300 years to lift around 700 million people out of poverty, China achieved that in just around 30 years. That is truly unprecedented and unparalleled in human history. In the next two years, we target achieving double-digit revenue growth. By 2020, Bombardier will become a $20 billion business, and our China operations will definitely be a key part of this growth journey.
A2 With the current size of China's economy, 6.6 percent is already formidable growth.
The incremental growth in 2018 has well exceeded that of 2007, when China was growing at 14 percent. If we look at some of China's national priorities - sustainable urbanization, the Belt and Road Initiative, and environmental protection - all of them call for more efficient and sustainable transportation, and are well-aligned with Bombardier's portfolio and expertise.
A3 We welcome and look forward to the change. China's continuous opening-up efforts, for example, in aircraft MRO (maintenance repair and overhaul), will bring more and more business opportunities for us.
At Bombardier, we always have a long-term belief in China, and we aim to become a fundamental and integral part of China's aerospace industry.
A4 The development of the aerospace industry is very important for China to achieve its goals (in upgrading its manufacturing sector), and in this regard, collaboration with Western companies is the key. Bombardier is well positioned to work with Chinese companies to support this vision. As a longstanding player in the aerospace industry, Bombardier boasts the capabilities of designing and manufacturing aircraft and aerostructures, as well as the full spectrum of related engineering services.
A5 Though China still has a number of issues to deal with, it has already shown tremendous capability to evolve its system and address its issues over the past decades.
From our perspective, we believe in China and its ability to continue growing and evolving. China is no doubt at the core of Bombardier's geographic expansion and our global success. We are fully committed to bringing more advanced aerospace products and solutions.