Businesses commit to China's future
Share - WeChat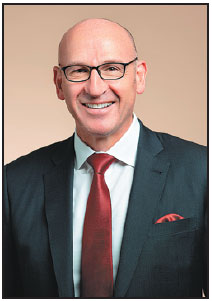 TONY ACCIARITO, PRESIDENT, THERMO FISHER SCIENTIFIC CHINA
A1 For Thermo Fisher, China is a critical market. Today, China is the second-largest country by revenue for Thermo Fisher. Thanks to the favorable business environment, Thermo Fisher has been partnering with our customers in China for over 35 years and now has become a business with 5,000 employees in China. Thermo Fisher's mission is to enable our customers to make the world healthier, cleaner and safer.
Our products and solutions have been applied into many vertical market segments closely related to our daily life such as healthcare, pharma and biopharma, food safety and the environment.
A2 We continue to hold an optimistic attitude toward China's economic development. With the government leveraging its scale to conduct massive reforms, the country will continue to sustain growth in the future. There will be great opportunities for the company to continue to grow fast in the future.
From an industry perspective, we expect partnerships in our key-focused vertical markets, including healthcare, food safety, environmental as well as pharma and bio-pharma.
We will remain committed to this important market by working alongside our customers to meet the Chinese government's policy priorities in order to contribute to a healthier, cleaner and safer China.
A3 We are very grateful for the Chinese government's support of global trade liberalization and opening-up. We are interested in the regulatory development of the foreign investment law and the Patent Law. We hope that implementation of such laws will improve operations and intellectual property rights protection for multinational companies in China.
A4 I believe innovation is key to our success in China, and it is critical to ensure our innovative solutions and technology work developed "in China, for China". We need to look into local demand and (the) social environment.
Only by helping solve local challenges can we have the opportunities to expand our local footprint and enjoy the rapid economic development in China.
A5 We highly appreciate the government's efforts to cut red tape. From our perspective, cutting red tape will absolutely help us to execute our "in China, for China" strategy and accelerate the progress of our local investment and cooperation.