Company's use of red scarf draws ire of CYL
Share - WeChat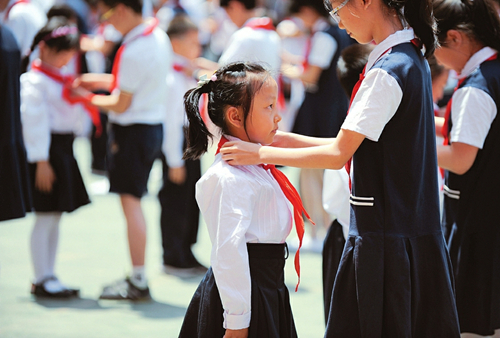 The Chinese Young Pioneers National Working Commission strongly condemned the behavior of a company that used a red scarf, the symbol of the young pioneers, for marketing purposes, according to a statement released by the Central Committee of the Communist Youth League on Thursday.
Shanghai Zhenhai Industrial Limited Co, a company that sells male sex products, invited Sola Aoi, a Japanese singer and former adult movie actress who is well-known in China, to a benefit activity in Dehong prefecture, Yunnan province, to raise money for impoverished schoolchildren. The company is also donating funds.
The actress wore a red scarf when participating the activity on Aug 1.
The red scarf is a neckerchief worn by the Chinese Young Pioneers. The red triangle scarf represents a corner of the red flag and symbolizes the revolutionary tradition.
Distorting, vilifying, defaming or otherwise diminishing the deeds and spirit of heroes and martyrs is strictly prohibited, according to a new law in China on the protection of heroes and martyrs, which took effect on May 1.
Founded in 1949 and led by the Communist Party of China, the Chinese Young Pioneers is a national organization for Chinese children aged 6 to 14, most of whom are primary or secondary school students.
xinwen@chinadaily.com.cn