Hong Kong students gain vision of the future
Share - WeChat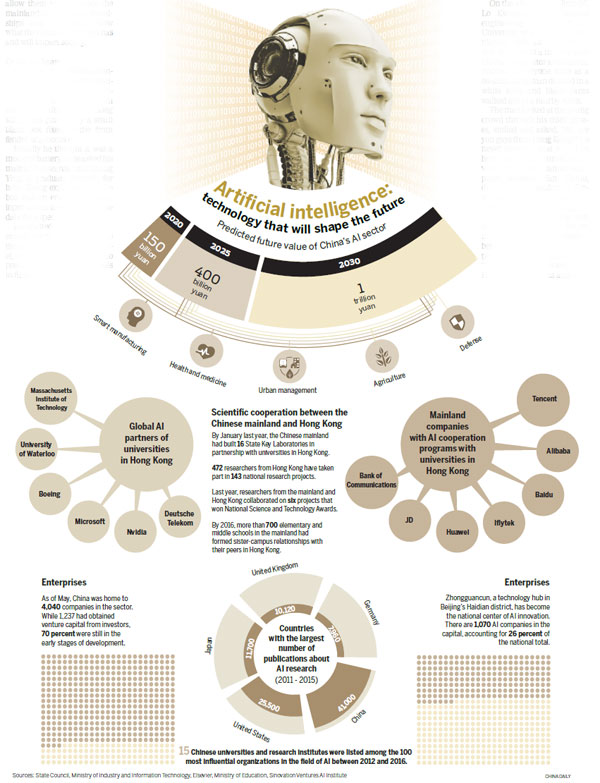 Undergraduates from the city intern at Chinese Academy of Sciences for the first time. Zhang Zhihao and Zhang Yangfei report.
Lam Wah-shing, a 22-year-old senior from the City University of Hong Kong, learned to be a "father" this summer while interning at the Institute of Automation of the Chinese Academy of Sciences in Beijing, the country's highest academic institute.
His "baby" was a 40-centimeter-tall humanoid robot named Xiaozi, or "small automaton". The robot lounged lazily when powered off, but once turned on, it walked around the room like a toddler, pursuing and kicking its program target - a red tin can.
During his six weeks as an intern, Hong Kong resident Lam wrote codes for Xiaozi's intelligent perception and computing programs.
Lam rushed to fix Xiaozi when it collapsed due to a battery malfunction, and laughed when it wobbled its sensor-packed head cluelessly as it searched for the target, which was hidden behind a chair.
"Coding a robot is like teaching a child, it takes a lot of patience and care," he said.
Lam was part of a 20-strong delegation of students from seven universities in Hong Kong who interned at the academy. They studied artificial intelligence, smart robotics, autonomous driving and other advanced topics at the academy's institutes for automation, computing technology and software.
The program, which began on June 19, was the first time students from Hong Kong had interned at the academy. It was organized by Hong Kong's Home Affairs Bureau, the academy's Bureau of Science Communication and the Intelligence Science and Technology Popularization Alliance.
Both the mainland and the city have recently expanded exchange programs, especially those for young people.
The programs aim to cultivate innovative, passionate and capable young scientists by teaching them more about the nation's latest developments and opportunities, Carrie Lam Cheng Yuet-ngor, chief executive of the Hong Kong Special Administrative Region, said at the closing ceremony of the academy's internship program on July 26.
Lam hopes to expand the scope of research subjects in which interns from Hong Kong can become involved, and has urged the students to share their experiences on social media to encourage more people to join the program.
This year, the Hong Kong United Youth Association has launched four internship programs, including a six-week program that started in June and enabled 250 Hong Kong undergraduates to intern at mainland companies and government organizations.
"Young people are the future, and the most dynamic, the most innovative generation, with great potential to push forward social development," said Jack Chan Jick-chi, Hong Kong's undersecretary for home affairs, at a launch ceremony for the programs.
In addition to cultural and career-focused exchange programs, Carrie Lam pledged in May to enhance bilateral scientific exchanges and collaboration with the mainland after President Xi Jinping said he would support Hong Kong becoming an international center for innovative science and technology.
Liu Chenglin, deputy director of the academy's Institute of Automation, said scientists in the mainland already have a long and fruitful history of collaborating with their peers in Hong Kong.
Collaboration and young, innovative talent are crucial for advanced technologies such as artificial intelligence, he said.
However, it is rare for students from Hong Kong to study at or engage in scientific exchanges with research institutes in the mainland.
As of June last year, 11,000 to 12,000 students from the mainland had studied at universities in Hong Kong every year since 2012, according to the Ministry of Education. However, only 70,000 students from Hong Kong have studied at and graduated from mainland universities since 1997.
"This internship program will help Hong Kong students learn about the mainland's research methods and environment," Liu said. "It will also allow them to experience the mainland culture, build friendships and understand how what they learned at school has and will impact society."