Tourism key to building Sino-Bhutan ties
Share - WeChat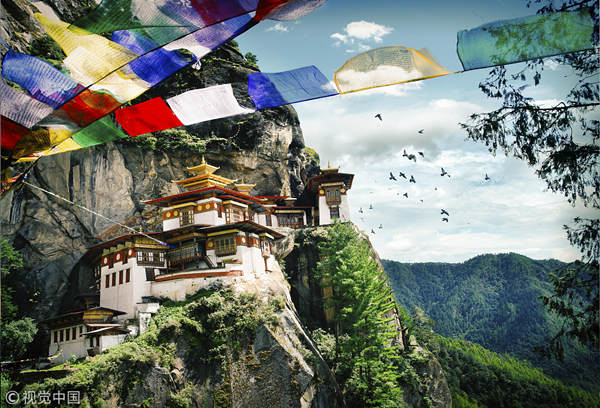 Sino-Bhutan relations have stood the test of changing times and challenges. Irrespective of size, different political system, level of development, and military and economic might, changes at home, region and beyond, Sino-Bhutan relation can be an exemplary model to the world as Bhutan appreciates China's long-standing respect for its independence, integrity, stability and development yet road to official diplomatic relations has not begun.
Beginning with the coronation of Bhutan king in 1974, contacts at various levels between both nations have increased in recent decades. The sports, religious and cultural visits have been followed by participation in regional and international meetings on security, hydropower development, tourism and health. Bhutan has always maintained one-China policy by voting for restoring China's United Nations' seat in 1971, and as 55th UN General Assembly's vice-chairman, Bhutan rejected Taiwan's participation motions in UN and WHO. Bhutan also opposed Taiwan's bid to host 2002 Asian Games. The Chinese ambassador to India has been visiting Bhutan on regular basis since 1994, and Bhutanese ambassador visited China in 2000. These visits have opened up new channels of interaction and contacts for exchanging opinions on different issues.
I worked very hard to participate in the Young Sinologists programme in Beijing because I believe that understanding China will bless me with China's wisdom of promoting civilization to learn from each other. My stay in China helped me understand the Belt and Road Initiative, which seeks a better world and bright future, wants to usher in a new round of globalization and the construction of a community of shared destiny for mankind. Before coming to China I had a narrow view of the country primarily because of the influence of western scholars. However, the young sinologists programme created a platform for seminar, symposium, cultural sightseeing and people-to-people exchange that broadened my understanding of China more deeply, especially how the ancient Chinese civilization was reshaped by unprecedented torrent of socio-economic, cultural and technology forces.
Prior to my trip to China, I believed the western press when it blamed China for contributing to global greenhouse gas emissions, but my trip to Guizhou province in Southwest China changed my outlook. As I walked the countryside near Guiyang:
Nihao greets thy heart orient with gracious morning light,
Lifts up greeting head each other under eyes wearing a smile,
Like a skylark at horizon of blue sky,
Day break travel kisses through the green meadow,
Thou from bottom of heart sing hymns at heaven's gate of Guiyang,
Full many a glorious morning have I seen?
I am flattered at the mountain tops with sovereign eye,
I ode my song to Guiyang reminds me Bhutan,
As both country focuses on greener economy,
Their ecological richness is not only a bonanza for nature lovers,
But a potentially rich ecological treasury for world to unravel.
Historically, China and Bhutan have been close neighbors on the two sides of the Himalaya Mountains. Buddha reached China in the 2nd century BC and made Buddhism become a part of Chinese life and culture and in 747 AD second generation Buddha Guru Rinpochhe visited Bhutan where he made Buddhism a part of Bhutanese life and culture. In the history of cultural ties and friendly contacts between China and Bhutan, Buddhism was the first of the kind and earliest linkages to bind the people of the two countries together and ever closer. After my visit to Lama Temple in Beijing I was overwhelmed to see how Buddhism organizes elements in society for constituting polity with particular focus on the role of compassion, kindness, and humble. The deep-rooted ethical morals of Buddhist principle has been a driving force in both China and Bhutan and the respect and generosity transcends beyond the borders.
Tourism is also one of the key elements of social connectedness which allows individuals to join networks of likeminded people, provides an opportunity for identity affirmation, development and performance. According to Tourism Council of Bhutan, 2017, China topped the list of tourists visiting Bhutan. Tourism can not only strengthen the bond between two countries, but can build the community of common destiny by connecting people globally. I believe that the concept of BRI put forward by China will certainly enhance connectivity and help tourism globally. Therefore, tourism is a common aspiration of China and Bhutan and will be one of the bedrocks to build strong economic and cultural bond in making Sino-Bhutan relations stronger.
Lobzang Dorji, associate lecturer, Sherubtse College, Royal University of Bhutan, travel advocate and research consultant