Workshops promote craft in rural Guizhou
Share - WeChat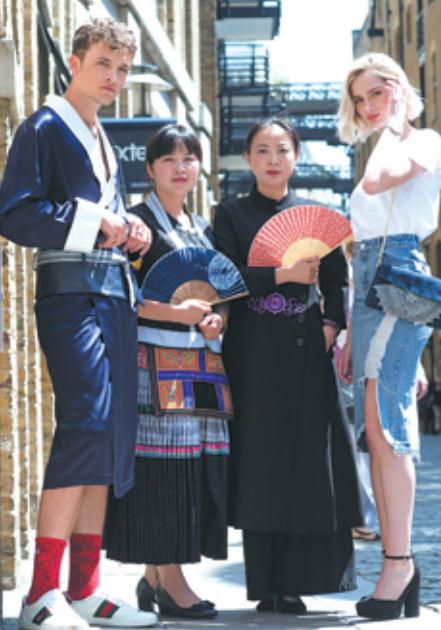 Fashion from Southwest China's Guizhou province impressed visitors at the 2018 International Women Sustainable Development Forum and Handicrafts Exhibition held in London recently.
The products, which feature a fusion of Western fashion and Eastern motifs inspired by ethnic Miao embroidery and batik fabric decoration by rural women of Zhijin county in the province, were the fruit of a poverty alleviation program.
At the Fourth World Internet Conference in China last year, online discount retailer Vipshop had signed an agreement to help the impoverished county.
Traditional Miao embroidery and batik craft are important parts of China's intangible cultural heritage. As handicrafts of the Miao ethnic group, local women often learn embroidery and batik work when young.
However, the art typically fails to bring them enough income, so they have to find jobs outside their hometown. Official data suggest there are 40,000 seamstresses in the county, of which 7,000 live below the national poverty line.
"The best method is to let people, especially the younger generations, understand and respect traditional craft techniques. Once recognized by the market, such items can sell more and also help sustainable development," says Huang Hongying, vice-president of Vipshop.
So, an embroidery and batik workshop was set up in November to encourage local women to begin their own business. The workshop helps them make a living at home by broadening their sales channels through e-commerce. Since its foundation, the workshop has brought 250,000 yuan ($37,780) to its employees.
"I used to think that Miao embroidery and batik works were just part of our traditional culture. I never imagined that they would be so popular among Westerners," says Yang Linxian, a seamstress in Zhijin.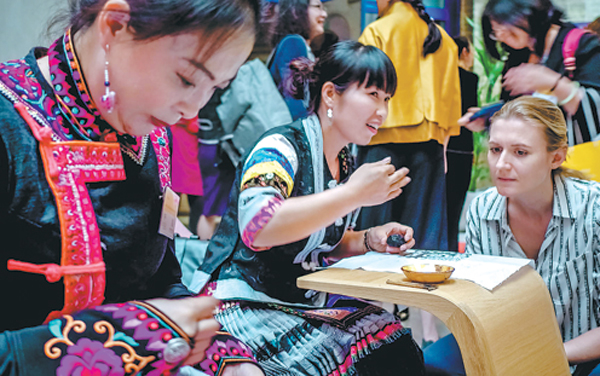 She is currently a master seamstress at the workshop on the recommendation of the local women's federation and was invited to attend the exhibition in London.
Vipshop also set up another workshop and signed an annual production order with the county in May, which is expected to bring further income of 10 million yuan for the local women.
Additionally, seven well-known brands that use the platform have partnered with the county to place orders and raise the popularity of Miao embroidery and batik craft. According to the agreements, each brand will provide orders of at least 100,000 yuan to the local seamstresses.
Now, the workshops have become a new way of protecting and developing local cultural heritage, and to help alleviate poverty. A total of 66 handicraft cooperatives have been set up in 32 villages of Zhijin.
It is reported that over 30,000 women will engage in traditional handicraft production by 2020, aiming to lift up to 60,000 people out of poverty.