Capital concept taps into spirit of 'baijiu'
Share - WeChat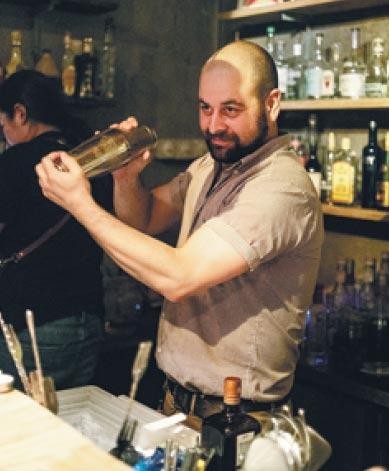 Putney believes that sampling baijiu by the glass and comparing the different aromas side-by-side is the best way for his customers to fully appreciate the spirit and decide which cocktail best suits them.
Just like fine wine, baijiu is an acquired taste and it can take time to understand its various flavors and styles. Luckily, this bar provides taster flights, although it would take quite a few to try all 40-plus varieties they have in stock.
"We offer taster flights and sit down with the customers to explain each of the four aromas. You should drink in this order: rice, light, strong and sauce. After you find your favorite, I can recommend a cocktail," Putney explains.
Each type has its own unique flavor profile. The "rice" aroma from southern China has a sweeter, subtler taste, while the "light" aroma, commonly found in the Beijing area, is sorghum-based. The "strong" aroma is considered on the higher end because of the multiple grains used to create a more complex flavor. The "sauce" aroma is compared to soy sauce, but the high-end brand Moutai is the best you can get.
"Moutai is the hardest to work with (for mixed drinks) and takes the longest to develop. Even though the Moutai Coco Cream cocktail is mixed with sweet ingredients, I would say it is still a savory drink," Putney says.
Most Popular