The art of the Cantonese soup
Share - WeChat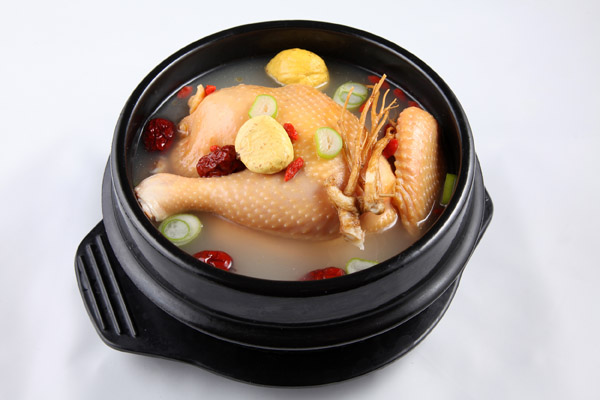 Traditional and fusion cooking styles, regional and international ingredients and a new awareness of healthy eating are all factors contributing to an exciting time for Chinese cuisine. Pauline D Loh explores the possibilities.
Heat tires the body. Humidity adds to the stress. When summer days get longer and hotter, the most nourishing meal is a pot of soup, lovingly cooked and full of goodness. No one understands that better than the Cantonese housewife, who has an encyclopedic collection of soups for every occasion, and for all weathers. Summer soups will be light, but full of ingredients that will chase away the effects of humid vapors, such as herbal ingredients like dried Chinese yam, Chinese jujubes, ginseng or angelica root. Certain ingredients are paired so that one can act as a detox cleanser, while the other replenishes nutrients.
Old cucumber pork marrow bones soup
4 big marrow bones, cracked
2 old cucumbers
1/2 cup wolfberries
Heat a kettle of boiling water and scald the marrow bones. Rinse. Scrub the old cucumbers thoroughly, cut in half lengthwise, remove pith and seeds. Cut into large chunks, leaving the skin on.
Heat 2 liters water to a rolling boil and drop the marrow bones in. Add the cucumber chunks. Bring to a boil again and then turn down to a simmer for an hour. Remove any scum that floats.
Just before serving, add the wolfberries to the soup and turn off the heat. Season to taste. Keep warm. To serve, ladle one or two cucumber chunks and a marrow bone into the soup bowl, and ladle hot soup over them, adding wolfberries. Salt individually.
Old cucumbers are not your salad cucumbers, allowed to age on the vine, but a different variety, a close cousin. They have a cucumber freshness that infuses the soup, but the flesh cooks to a translucent creaminess. It's a pleasure scooping it up with your soup spoon and allowing it to just slide down the throat.
Old cucumbers are a neutral vegetable, but cooking them with skin on improves their detox abilities.
The rich marrow bones combine with the slight alkalinity of the cucumber to create a delicious light emulsion. The wolfberries are not boiled with the soup to preserve their natural sweetness and vitamins. They rehydrate very readily, and in the process, they absorb the flavors of the soup.
Most Popular