A ladle goes a long way
Share - WeChat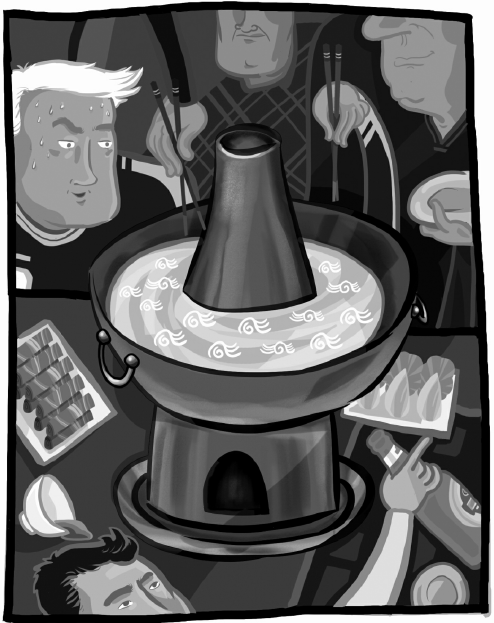 It took me a long time to warm to hotpot. Although it's arguably China's most popular-if not simplest-form of dining, I just didn't get it at first. I'd ask myself: Why would someone want to go to a restaurant where you're required to do your own cooking?
Isn't that the point of eating out, to avoid the hassle of actually making a meal? To spend an evening being waited on, as opposed to spending an evening waiting for water to boil so you can slip in some noodles and get dinner over with?
As you can probably tell, I'm no gourmet. As a younger man, I tended to eat for fuel more than pleasure, and I certainly had no time for cooking.
A long time ago, a group of friends invited me to dinner at a Korean barbeque. It was one of the most frustrating nights of my life. I would place slices of potato or meat on the grill and wait patiently for them to cook, only to see someone else swoop in and gobble them up in the blink of an eye-like a frog catching a fly. After this happened a few times, I laid down my chopsticks in protest and decided to just grab a kebab on the way home.
Based on that experience, when I arrived as a tourist in China in late 2008, hotpot-another shared cook-it-yourself experience-was not something I was particularly keen on trying. As far as I could tell, eating hotpot seemed to involve a large metal pot, lots of boiling soup, mountains of raw ingredients, and a likely trip to a hospital burns unit.
I first indulged with some people I'd met in Hangzhou, the capital of Zhejiang province. It was chaos. No one took charge of what was going into the boiling pot, and far too much alcohol was consumed for anyone to confidently be able to tell when the food was ready. In the end, I became stuffed on raw vegetables and uncooked meat. The only way the meal could have gone worse is if the waitress had asked me to do the washing up, too.
My feelings for hotpot changed after I met the woman who would become my wife. To call her a foodie would be an understatement, and I was impressed by the way she would take charge of any hotpot situation. She grips that ladle and keeps order like a sergeant-major drilling a squad of marines.
Slowly but surely I fell in love …with hotpot. Before long I'd gone from adverse to addicted. I was trying as many styles as I could, as well as similar dishes, such as mala-xiangguo, a super-spicy, hassle-free "dry hotpot" from southwestern China.
Most Popular