Welcome the New Year with a hot pot tour
Share - WeChat There is no better way to start a new year than relishing a simmering hot pot with the people you love. It is a traditional Chinese delicacy which traces its roots back to the Three Kingdoms (220-280). Ancient Chinese called the hot pot gudong, based on the sound made by the bubble of the soup when ingredients were dropped into it.
A large simmering pot or a small one depending upon the size of your dining party offers the same gourmet satisfaction. The perfect dish combo insists of sliced meat, vegetables, starches and a variety of condiments. Hot pot nowadays has swept across East Asia colored with culinary features of every country. In China, Western-style "hot pot" such as fondues also won the hearts of many customers.
From January to March, The Westin Beijing Chaoyang presents four different kinds of hot pot in its four restaurants.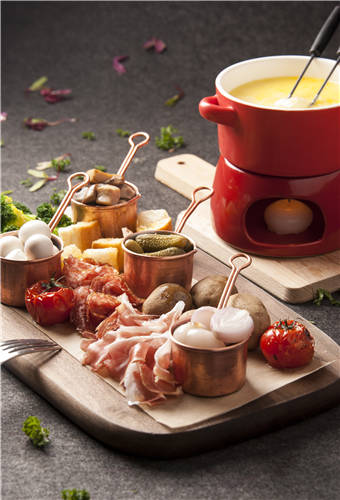 1. Cheese fondue
You can savor the creamy flavors of cheese fondue at Grange Grill, the steakhouse of Westin, with melted Swiss cheeses, including Raclette, Gruyere and Emmental, accompanied by Rosette and Bayonne ham.
Most Popular