Site birthplace of Huaiyang cuisine
Share - WeChat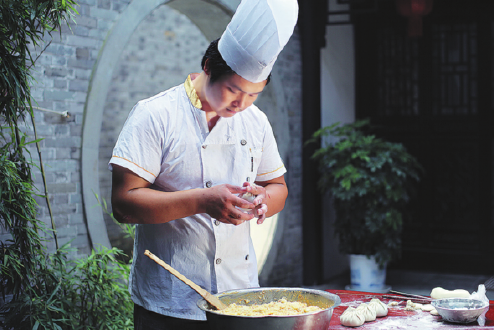 With the longest part of Beijing-Hangzhou Grand Canal, or the Grand Canal passing through, Jiangsu province in East China is not only a national economic and commercial center, but the birthplace of Huaiyang cuisine.
Huaiyang cuisine, originating from regions around Huaihe River and Yangtze River, mainly Huai'an and Yangzhou, has been famous since the Sui (581-618) and Tang (618-907) dynasties.
Emperors Kangxi (1654-1722) and Qianlong (1711-1799) often stayed in Huai'an and Yangzhou during their travels to the southern regions of the Yangtze River down the Grand Canal, making the cuisine popular in the nation. It has been listed as one of the four major cuisines in China since the reign of Emperor Qianlong.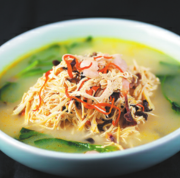 Praised as "the most delicious in Southeast China", Huaiyang cuisine is famous for its choice of ingredients, delicate culinary processes, style and flavor.
Ingredients for the cuisine must be fresh to guarantee the fresh taste. And as it originated in an area abundant with rivers and lakes, the cuisine benefits from the waters' rich aquatic creatures and seasonal vegetables.
The cuisine is best known for its delicate processes, especially exquisite knife skills which are needed for Wensi tofu. To make the dish, square tofu is cut into more than 5,000 shreds.
Without too many ingredients, Huaiyang cuisine accentuates the original flavor of the ingredients through cooking skills such as braising and stewing.
In the cuisine, large balls with crab meat, known as lion head or shizitou in Mandarin, are stewed for a precise period of time.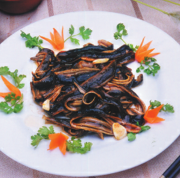 The cuisine also features Yangzhou fried rice, which is as famous as the city's Slender West Lake.
Separately, there is Wansan "eight bowls", named by Shen Wansan (1330-1376), the richest man in the southern regions of Yangtze River during the Ming Dynasty (1368-1644).
This dish is part of Suxi cuisine, one of the branches of Huaiyang cuisine, and it is sought after in Suzhou and Wuxi.
Also, Wuxi sauced spare ribs, with a long history since the Qing Dynasty, is a specialty in Wuxi, along with, Liangxi crispy fried eel and other dishes.
Another dish from the area is squirrel fish, a dish prepared in the shape of a squirrel.
Liu Maomao contributed to this story.
Most Popular