Playing it cool
Share - WeChat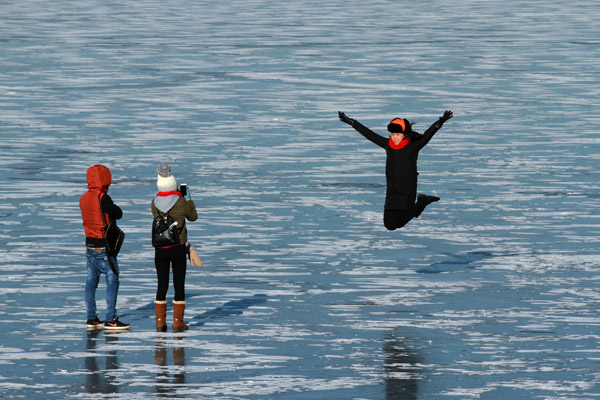 This year, provincial tourism officials have teamed up with online group-buying and service provider Meituan to stage winter carnivals and promote tourism in the region.
So far, nearly 1 million people have bought Heilongjiang tour products via Meituan, says Huang Lin, vice-general manager of Meituan's travel destination marketing center.
Sales have surpassed 200 million yuan via the platform.
"We will continue to work with Heilongjiang to launch online travel products and offer quality products at favorable rates for the winter season," says Huang.
Many new events have been added this year to spice up the visitor experience, especially in the province's capital, Harbin.
Nearly 4,000 performances of classical music, folk songs, opera and acrobatics will be staged at major scenic spots, including Wudalianchi and Mohe, according to Rao Qing, product manager with China CYTS Tours Holding.
The Harbin International Ice and Snow Sculpture Festival offers large-scale ice sculptures, light shows and a variety of winter-recreation events. It will partner with e-commerce giant Tencent's role-playing mobile game King of Glory to build a 15,000-square-meter arena that will integrate winter sports with online games.
For sports fans, professional ice hockey matches and international winter swimming competitions will also take place in Harbin.
For those with children, the Harbin Polar Museum is offering accommodation where children can watch wildlife, such as penguins and polar bears, from the comfort of their rooms.
CYTS Tours has also launched a winter camp for parents and children in the provincial capital to cater to families.
The recently opened Harbin Wanda Culture Tourism City, home to China's biggest indoor-skiing facility, will stage an "ice lantern" festival and dancing shows, as well as offering "fairy tale" night tours.
In addition, the Harbin festival's ice kingdom will open on Dec 20. Visitors can enjoy views of the spectacular winter wonderland that features prehistoric glaciers and ice cascades. Sleigh races will also take place.