I was seduced by a Peking duck!!
Share - WeChat China Daily website is inviting foreigner readers to share your China Story! and here are some points that we hope will help contributors:
Over the period of my life I've been fortunate enough to have traveled to most parts of the US, the Caribbean, UK and Western Europe. Each one of these areas has its' own brand of cuisine and special dishes. My travels had allowed me to eat in some of the best restaurants and taste test the different cuisines in all the places I visited. Although I am not considered to be any special kind of culinary authority, I know good food when I taste it and, most important of all, I do love to eat.
Unfortunately, my travels had never taken me to Asia. Little did I imagine in my wildest dreams the massive array of culinary delights that awaited me half way around the globe. All of this changed, however, when in 1997 I was contracted to work in a university in Hebei province, China. I was really excited about traveling to a part of the world I had never seen and experiencing their unique culture and cuisine.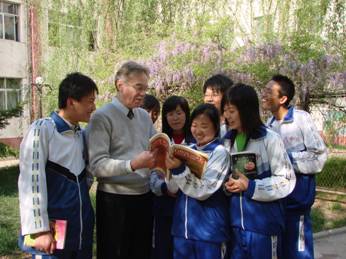 James W. Munch and his Chinese students [Photo provided for chinadaily.com.cn]
I arrived in Beijing on a brisk, cold day in March after a twenty five hour trip from Washington National Airport. I was met by three very friendly, hospitable and kind individuals from the University I had contracted with who were the Director of Foreign Affairs, a teacher who served as translator and the school driver. It was a little late and I was completely exhausted from the trip and all I wanted was to take a shower and have a short nap. Of course, they were very understanding of my condition, as is the Chinese custom, and they took me to a very nice hotel in the north of Beijing just off the second ring road.
After a shower and short nap, I was ready to go even though my biological clock was still a little off and I hadn't completely recovered from the long flight. My Chinese hosts came to get me and we took a short walk which led us past several small shops and snack and fruit venders along the street which I had previously experienced in France and Spain. I was especially impressed by the pleasant aroma of the baked sweet potatoes, candied fruit, roasting sesame and chestnuts, and barbecued sis kabob floating through the air which began to arouse my appetite.
After taking a flyover (elevated pedestrian crosswalk) we arrived at a very nice restaurant. As soon as we entered the restaurant, I knew I was in for a memorable experience. The delightful aroma of fresh vegetables, spices and roasting meat immediately caught my gastronomical attention. In all of my travels, I had never experienced such a pleasant odor. We were ushered to a round table which was about 5 feet in diameter with a solid glass carrousel in the middle which was about 4 feet in diameter. At each place setting there was a small dish about 4 inches in diameter, a soup bowl with a small porcelain spoon, a tea cup, a wine glass, a small glass (about one ounce) for toasting and a pair of chopsticks resting on a miniature porcelain cradle that was shaped liked a dragon. The waitress brought the menu which was huge with detailed pictures of the dishes being offered. While most western restaurants offer only a few dishes at the most, Chinese restaurants offer twenty or thirty or more. The sheer variety of dishes is mind boggling.
There was a lot of discussion and passing of the menu between my Chinese hosts and questions to the waitress before everything was settled (I have since learned that ordering food is a skill because the host is ordering for everyone who share all of the dishes and some are better than others at getting a good balance of food items). While all of this was going on, another waitress was pouring the tea and had placed a bottle of 'baiju' on the table. (Literally translated baijiu means white alcohol and while the Chinese refer to it as white wine it is really like a whiskey which is distilled from a variety of different grains but usually includes corn and sorghum. Like everything else in China, there are many varieties of baijiu depending on composition and location where it is distilled. It should not be confused with white rice wine. I enjoy drinking alcohol and have tasted about every kind imaginable but never anything like this.) The waitress poured our toasting glasses to the brim while our cold dishes began to arrive.
In their thousands of years of history many traditions have developed in the Chinese eating culture such as the host or highest ranking or oldest individual always sits facing the door and the guest of honor usually sits to his right. When each dish is brought to the table the waitress places it on the carrousel and announces what it is. It is then spun around until it is in front of the host for his inspection. This continues until the carrousel is full. As a general rule there is one more main dish than the number of people at the table not counting the cold dishes and the "main food" which is usually rice, porridge, noodles or some kind of bread product (At special banquets of this type, all types of meat are served like pork, beef, mutton, chicken, fish, etc. First comes the cold dishes which can be a mixed salad, preserved meats or eggs, organ meat like liver and heart, a large variety of sautéed or salted nuts, sliced vegetables with a dipping sauce, bamboo, lotus root and on and on and on. The variety of cold dishes is endless. Next comes the hot dishes which are usually a mixture of a meat and one or more vegetables.) All of the time they were bringing out the dishes, we were drinking tea and chatting but no one had eaten as much as a crumb. By this time I had become hungry and was looking voraciously at all of this beautiful food and smelling the delicious odors and it was all I could do to keep a bit of drool from emerging from the corner of my mouth.
After most of the dishes had been brought out, the host raised his glass and made a little speech or toast. He welcomed me to China using very flowery words and compliments which were then translated by the translator (the Director of Foreign Affairs, who had been a math major, spoke no English because he had only studied Russian in university). His little speech went on for quite a while and then they raised their glasses to me and we did a 'bottoms up' or ganbei which literally means dry cup. It was my first experience with the Chinese baijiu and while it had a somewhat sweet aroma, it burned as it went down my esophagus into my empty stomach. After this we all began to eat and I finally got to taste some of the delicious dishes. They would turn the carrousel ever so slowly so that everyone would have a chance to sample all of the dishes. Next came a second toast by the host where he talked a little about the University and its history which was followed by another 'bottoms up'.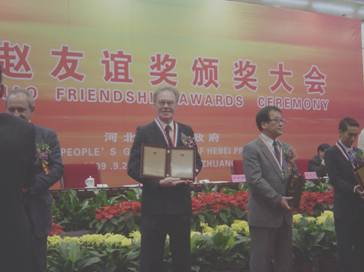 James W. Munch wins the Hebei Province Friendship awards in this undated photo. [Photo provided for chinadaily.com.cn]
I'm sure that I was a horrible guest because I constantly had something in my mouth even though they were asking me questions about my work and personal life in the US. The food was delicately prepared in light sauces that brought out the full flavor of the vegetables and meat and it seemed that the taste of each dish was a little more delectable than the one before it (one of the basics of Chinese cuisine is that no one flavor should dominate the dish but one should be able to savor all flavors with each mouth full. This is in contrast to US cuisine where the food is usually overcooked and smothered with heavy sauces and spices). Quite frankly, I thought I'd died and gone to food heaven. I had never tasted such delicious food in all my life.
We took a short break while they gave me some pointers on how to hold my chop sticks since they noticed that although I was managing to get the food to my mouth, it was not without some difficulty. It was easy to tell because there was usually a trail of food from the dish to my plate. It goes without saying that my technique was not too impressive but I improved greatly after the instruction. The host humorously noted the practicality and pragmatism of the Chinese people by pointing out that after all these thousands of years they still eat with two wooden sticks. Next came the third and last toast from the host where he again welcomed me and assured me that the school would do everything in their power to make me feel at home (and indeed they did). After this each one toasted me individually and by this time the baijiu was going down quite smoothly and I was becoming a little light-headed even though I would eat a lot and drink plenty of tea between toasts in order to absorb the alcohol.
Then came the fish which was on a long fish shaped dish. It was the whole fish from nose to tailfin and it had been braised in a succulent sauce and garnished with leek and parsley. The waitress placed it on the carrousel and spun it vigorously and surprise, surprise it stopped directly in front of me with its' head pointing in my direction. Now, the tradition is, as you might imagine, who ever the fish is pointing to must do a 'bottoms-up'. Another time honored Chinese tradition is to try to get the guest drunk which I figured was what they were trying to do to me and even the waitress was in on it too (I have learned that the Chinese don't try to get their guest drunk so that they can make them look like a fool but they feel that if everyone has a full stomach and a light head they are all happy, not to mention the fact that, the Chinese get equally drunk in the process). After this I began drinking more tea to dilute the alcohol and, of course, continued to revel in the barrage of unique tastes bombarding my taste buds.
Just when I was thinking I couldn't eat much more, out came the chef complete with his white hat and coat pushing a cart with the most beautiful roasted "Peking Duck" I'd ever seen. In fact, come to think of it, it was also the only one I'd ever seen. The chef carved the duck right before our eyes into thin strips each of which was a succulent piece of tender white meat with a golden brown crispy skin. The waitress brought several items which included fine strips of leek and cucumber, a dark sauce, and a plate of pancakes that were about four inches in diameter and about as thin as a sheet of paper. The driver put one of the pancakes on his plate and then chose several pieces of carved duck which he first dipped in the sauce then placed in the center of the pancake.
Then he added a few stripes of cucumber and leek which were also dipped in the sauce and placed in the middle of the pancake. He then folded the sides of the pancake over the top of the duck slices and folded the bottom up to make a little pouch. Interestingly enough, he did all this using only his chopsticks (the Chinese are very particular about not touching the food with their hands; something Westerners should keep in mind when visiting China). He then placed it on my plate. I managed to pick it up with my chopsticks and take a few bites but after a while the whole thing fell apart due to my clumsy handling, but I ate it all anyway. It was delicious. What more can I say? I was in love. And if this wasn' enough, next came the duck soup followed by deep fried duck skin. I know that by now you're asking "Where did you put all of this?" and my answer is, "I don't know but it sure was good!" After this I always advise my foreign friends that when they come to China they should consider bringing along an extra stomach.
But wait, that's not all. Then they served what is known as the main food which can be rice, a large variety of breads, noodles or porridge. When it arrives there is a short speech by the host outlining the purpose of the meal and expressing his hope that everyone had eaten their fill and had a good time followed by the final 'bottoms up'. Following our serving of rice they brought us a plate of fresh fruit compliments of the house. After paying the bill, which was about 1/10 of what it would cost to have such an elegant banquet in the US, we took a short walk in the streets and bought some fruit for me to take back to the hotel.
That night, as I reflected back on the activities of the evening and the fantastic meal, I wondered if I could ever go back to eating the mundane western food again. I was impressed that night by the wide variety of different dishes and I thought to myself that this may have been a special meal only experienced on auspicious occasions but, as I have since found, that was only the tip of the iceberg. I have discovered that this type meal is a weekly event for many Chinese who enjoy getting together with family and friends or business associates in a relaxed atmosphere. In addition, it's not expensive.
China has been characterized as a food society and now I can certainly understand why. I can truthfully say that Chinese food is the best I have ever tasted in all my travels and the variety of dishes is beyond belief. Even now, after years of eating in Chinese restaurants, I still run across dishes I've never tasted before. My only advice to first time visitors to China is to be ware of the famous, seductive 'Peking Duck'. One taste and you may never go home again.
I arrived in China in 1997 and since that time I have had the privilege of teaching in three universities, a senior middle school and an English language training center. I have taught students in kindergarten, primary school, high school, university undergraduates and graduates and adult members of the community. I often volunteer my time for consultation and helping students who wish to study abroad.
[Please click
here
to read more My China stories. You are welcome to share your China stories with China Daily website readers. The authors will be paid 200 yuan ($30). Please send your story to mychinastory@chinadaily.com.cn.]