Chinese justice
Share - WeChat China Daily website is inviting foreigner readers to share your China Story! and here are some points that we hope will help contributors:
I just got into a fistfight. Not half an hour ago, I was attacked in the streets by a big fat Chinese man. As I write this I'm still bruised and scraped from being roughed up in a public street. This is the story of how I got into my first (and hopefully last) fistfight in China, and my first encounter with the Chinese police.
Every laowai knows you should never mess with the Chinese police. Whenever you see Chinese cops in the movies they're always demanding bribes and throwing people in jail left and right, until you wonder how they have any time left over for fighting crime.
Although the Chinese people are rightly lauded for their many achievements in the fields of science and culture, safe driving is not one of them. I know I'm not alone when I say I've felt more than a little endangered by Chinese traffic.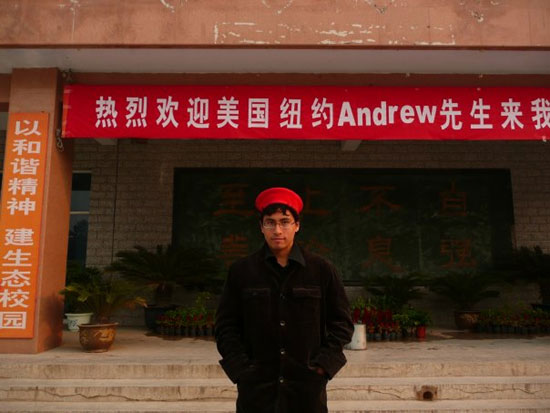 Andrew Ancheta poses at a school that he visited in China.
These concerns lead to the story of my first Chinese fistfight. About an hour ago I was strolling happily on the sidewalk, relishing the sunshine on my day off and thinking about the lovely caffeinated confections I'd enjoy at my favorite cafe. Behind me I heard screeching –a car was driving way too fast on the sidewalk, and people were jumping out of the way. Instead of slowing, the driver kept honking his horn and cursing loudly from his open window.
Now, we all know that driving standards vary from country to country. Many experts, however, would argue that, when encountering a motorist with obvious anger issues, it is best not to notify them of their automotive shortcomings. Most experts would also recommend that you not to curse loudly at that driver, yell at him to get glasses, or whack his car with your backpack.
Which is exactly what I did. Following expert advice is not one of my strong points.
Out he stepped from the car, big, red-faced, and huge, at least a hundred pounds heavier than me, a blubbery pile of curses and swinging fists. Of course I fought back, or tried too, but I was just a skinny kid in glasses against a Chinese Moby Dick. I got one or two punches in before he overwhelmed me.
Suddenly we were surrounded by cops. Terrifyingly big burly Chinese cops with black uniforms and hardened muscles were asking me questions. What was my name and address? What was I doing in China? Where did I work? Did I have my passport on me? No, officer, I don't have my passport with me, not even a photocopy, even though I know I should. Yes, officer, all laowais who come to China know perfectly well they should carry their passports wherever they go.
The head cop turned away to confer with his colleagues. I started sweating, thinking of every story I'd ever heard about Chinese justice. Would they let me call a lawyer and have a trial, or just throw me in prison?
The officer turned back to me and started talking. "Please don't consider this common," the police captain said in halting English. "People like this are very rare in China. We hope you won't get the wrong impression of our country." He and the other policemen apologized profusely for their countryman's behavior, and smiled politely as they shook my hand. As I walked away I saw them clipping my assailant into handcuffs.
I walked away feeling surprised and strangely touched. I thought I knew exactly what to expect from the Chinese police. But I never expected them to treat me so courteously and professionally. I felt a little guilty for assuming the worst from them, only to discover that they were every bit as responsible and reasonable as they should have been.
Does that mean the Chinese police are perfect? Of course not. It takes one bad apple to ruin a barrel. However, this brief encounter with the forces of law in China left me feeling rather safer in China than I ever did before.
Andrew Ancheta is from New York and he is currently in Urumchi of Xinjiang Uygur autonomous region.
[Please click here to read more My China stories. You are welcome to share your China stories with China Daily website readers. The authors will be paid 200 yuan ($30). Please send your story to mychinastory@chinadaily.com.cn.]