One of a 'Kind'
Share - WeChat China Daily website is inviting foreigner readers to share your China Story! and here are some points that we hope will help contributors:

My decision to travel around China lay solely with my curiosity about the place - it was the one place that I had always wanted to explore since childhood. Why? Because everything I had read, everything I had seen and everything I had heard about this country fascinated me to an enormous extent of which I cannot describe. Before coming here, China seemed alien to me – a place that I expected to be hugely dissimilar from my own British culture. Be it the food, the scenery or the people, I was looking forward to immersing myself into China and was preparing myself for a cultural shell-shock. What scared me the most was knowing that not many Chinese people could speak fluent English, whilst I lacked the ability to speak Mandarin, but, I was ready for a challenge.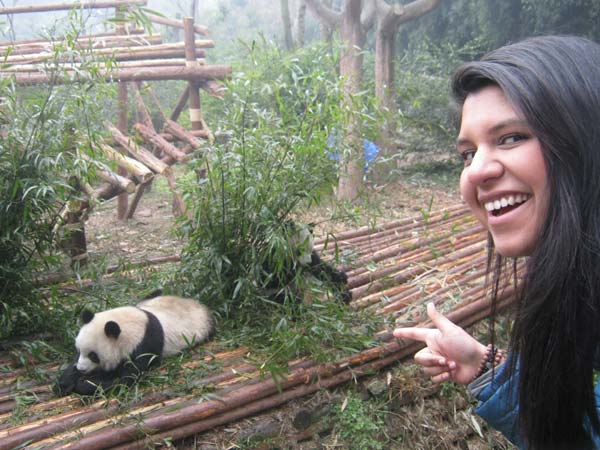 Kavita Dattani poses with a panda in an undated photo. [Photo provided to chinadaily.com.cn]
After travelling around China for just over a week things had been tough, yet we had been relatively successful. I was travelling with a friend and we had made our way from Beijing, up to Harbin, down to Xi'an, and it was time to move on. We wanted to challenge ourselves a little further so rather than heading to another big city, we decided to choose a smaller town for our next destination –Xiahe.
Xiahe is a small county in Gannan Tibetan autonomous prefecture, Gansu province. It is home to the famous Labrang Tibetan Buddhist Monastery, which is one of the largest Tibetan Buddhist Monasteries outside of the Tibet autonomous region. We were thrilled to hear about this place, and eager to see it, so we soon booked our train tickets to Lanzhou, the capital of Gansu province, from which we planned to get a bus to Xiahe.
We arrived in Lanzhou at around 5am. Half-asleep, we meandered our way to the bus station across the road where we found that there were no busses to Xiahe. There is nothing more frustrating than the infamous words 'Mei You' (don't have) at 5am – nails on a chalkboard would have been more pleasant. Since we were travelling out of season, there weren't many foreigners around which generally made things harder as our inability to speak Mandarin meant that we were stuck when it came to asking further questions. We managed to spot someone who looked like a police man and attempted to explain our destination to him in simple English, praying that he would understand. We weren't sure that he did but we followed him anyway as we didn't really have another option.
He took us on a city bus and we didn't know where we were going, but we were so tired that we didn't really care. Luckily we managed to meet a student on the bus who spoke English and he explained to us that the police man was taking us to another bus station on the other side of the city where we would be able to buy tickets to Xiahe. During this conversation a third man told the student that he was also a policeman and he would help us buy tickets, but as he was not in uniform we were all a little skeptical to whether this was the truth or not. The uniformed policeman told us it was ok and we should go with the student and the un-uniformed second police man and they would help us, so we hopped off the bus with these two strangers hoping that this was the right thing to do. The so-called police man, at this point, disappeared and we were left in the middle of nowhere with the student who was apologising and had no idea what to do.
We stood panicking. We didn't know where we needed to go, what to do or who to trust and we were scared to say the least. Around one minute later a police car spun around the corner and stopped right by us. We took a closer look and it was the un-uniformed police man. We got into the car and he dropped us directly to the bus station, and assisted us with buying our tickets. "It's my duty to help foreigners", he said proudly.
That morning I went from feeling like I was on another planet, to feeling right at home. I realized that however different this culture was; customs, etiquette, behavior etc., there was one thing that would always stand out, one thing that would always assure any traveler that they are safe and that is kindness. This is one of many experiences that I have had in China where somebody has demonstrated a tremendous act of kindness, which may have seemed like nothing to them, but has meant the world to me. In the west we seem to lack the foundation of mutual trust that I have found here in China. In Britain, efficiency and convenience are to such an extent that communicating with strangers is rarely necessary, yet in China it seems that there will always be someone to answer your questions and lead you the right way, which appears to be more of a natural way of going about life.
I was right; I did encounter a shock coming to China, but my premonition proved inaccurate. The biggest shock has been the genuine compassion and care between strangers that I can literally see and experience everyday – something we may have lost touch with in the west.
When I arrived in China I was excited to explore such a great place. I felt so fortunate to be here and I may even have said that my 'glass was half full'. Now, weeks later, after meeting so many kind people, my glass is overflowing. China, I love you!

The author is a recent graduate and keen traveler from the UK. She has been in China for almost 10 months now, working as an English teacher in Hengshui, Hebei.
[Please click here to read more My China stories. You are welcome to share your China stories with China Daily website readers. The authors will be paid 200 yuan ($30). Please send your story to mychinastory@chinadaily.com.cn.]