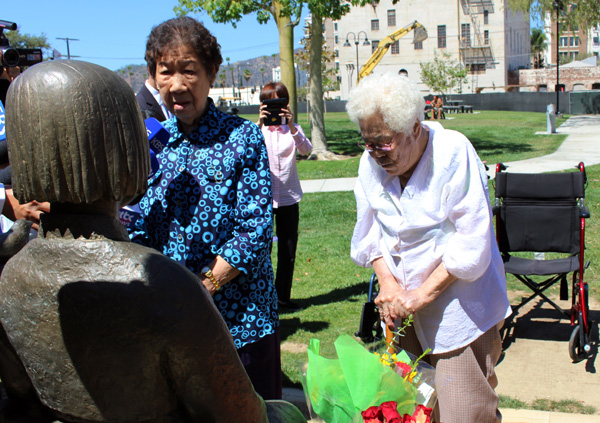 Lee Ok-son (right) and Kang Il-chul, both forced to serve as sex slaves for the Japanese army during the war, stand in silent tribute to a statue of a "comfort woman" in Glendale, California on July 24. The two were on a tour to the US calling for an apology from the Japanese government. Provided to China Daily
Calls are growing for Japan to take full responsibility for its 'comfort women' sex crimes during the war, report He Na and Zhang Lei.
In late July, two Korean women, both in their 80s, made a long journey to the United States. The two had been forced to serve as sex slaves for the Japanese during the war. They traveled to the US to call for an apology from the Japanese government. "It's as if the Japanese government is putting off apologizing and is just waiting for us to all die. But we must receive an apology," Lee Ok-son told reporters in Los Angeles on July 22.
"I will never forget that we've had to go through this, and I will repay what I've had to go through even after I die," the other woman, Kang Il-chul, added.
Experts' view:
Three experts have called for Japan to recognize its war crimes, as they speak to reporter He Na.
Wider context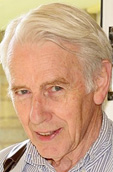 There is no moral high ground to be found in either World War I or WWII. This has been abundantly clear in the debates about Britain's role in WWI, recently celebrated.
The idea that "all's fair in love and war" is patently untrue. In WWII, was it ethically superior behavior for the Americans to firebomb Tokyo night after night? Or for the British to firebomb Dresden?
We need to look at the debate about comfort women in this wider context. If there are archives that document this episode, whether in China or in South Korea, it is of course appropriate to retain these in the national war museum, just as we do in the Imperial War Museum in London.
The first priority is for these records to be kept in the National Archives, just as Japan has done in its Peace Museum in Hiroshima. This shows a very different account of Hiroshima than can be found in the US.
If these memorials then achieve a better world order, where every human being is given dignity and respect, one could only celebrate.
Kenneth King is a professor at the School of Social and Political Science at the University of Edinburgh.
Starting to heal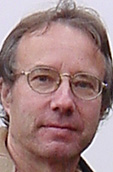 Remembering is the beginning of healing. This is true for many countries and situations, and even true for my own country where we have much to reflect upon and acknowledge concerning interactions with people including those of the First Nations and Pacific Islands.
Every country has these issues, and it is best not to ignore them, nor revise history, no matter how painful. A strong nation is one that can accept the past, remember the past, and build a more harmonious and unified future.
In the short term, this can be hurtful, but in the long term, recognizing these events helps to build trust, honesty and a sense of integrity between people of various nations. I know this is difficult for the Japanese to do. I hope that they can learn to grow and be more responsible concerning their past. It will help them to build a better future.
For me, I am happy to see the Chinese exercise their feelings and ideas about what should be remembered. Many nations have tried to suppress China for hundreds of years, and finally, China has had the stability and courage to begin addressing many issues that should be addressed. If one studies history, one will learn why these issues are important to the Chinese people and to stand by China and be a friend.
Jon Bryan Burley is a professor at Michigan State University.
Imperial Japan used the euphemism "comfort women" to refer to young women of various ethnic and national backgrounds and social circumstances who were forced to offer sexual services to Japanese troops before and during World War II, C. Sarah Soh, historian and professor at San Francisco State University, explained in her essay Japan's Responsibility Toward Comfort Women Survivors.
In one of the latest signs of growing concern over the issue, the United Nations Human Rights Committee on July 24 requested that Japan make immediate and effective efforts to redress the atrocities.
The committee made the request in its concluding observations on the sixth periodic report of Japan's implementation of the International Covenant on Civil and Political Rights in Geneva, Xinhua News Agency reported.
The Korean women who recently called for the Japanese apology are only two representatives of the numerous sex victims during WWII. The nonprofit advocacy group Washington Coalition for Comfort Women Issues estimated the number ranges from 100,000 to 400,000.
"It's difficult to ascertain the exact number, but it's widely believed some 200,000 Chinese women were abused based on the decades of research by historians," said Su Zhiliang, director of the China "Comfort Women" Issue Research Center at Shanghai Normal University.
"As of 2013, many surviving comfort women would probably be approaching their 90s, and in China there are only 23 identified publicly who are still alive.
"I often visit them. The most recent one I visited was Li Xiumei in April in Shanxi province. Unfortunately, she's in poor health and living in poverty," Su said.
"And the destiny of other comfort women has been no better. They are all suffering various kinds of diseases and living in misery. It's a shame that they will probably all eventually die without hearing an official apology or receiving compensation from Japan."
"With more in-depth research, confidential information, testimonies and confessions being opened to the public, we have enough evidence to show the world that the comfort women system was not made up of the individual acts of Japanese soldiers, but was a government initiative.
"The system resulted in the largest, most methodical and deadly mass rape of women in recorded history. It is a global issue worthy of attention from the entire world," Su said.
Mounting pressure
The Japanese government has repeatedly refused to officially acknowledge the atrocities even though it has been almost seven decades since they were committed.
Historians from Western countries, foreign NGOs, other researchers and members of the public have also called for more to be done to acknowledge these war crimes.
"The issue of comfort women is in my judgment a significant aspect of Japanese atrocities in WWII. They were, in a high proportion of cases, women in effect kidnapped in Korea, China, the Philippines, the Dutch East Indies and elsewhere," said Gerhard L. Weinberg, a US diplomatic and military historian noted for his studies of WWII and a professor of history at the University of North Carolina.
"As a result, they were not only brutalized but, what is often overlooked, also exposed to the hazards of war. Many lost their lives in the bombing of bases and camps where they were held, and also when ships on which they were being sent to and from Japanese garrisons all over the Pacific were sunk.
"The victims deserve commemoration as well as compensation as a significant aspect of a terrible and entirely avoidable systematic misconduct by Japanese forces in WWII," said Weinberg, who is also a member of the Historical Advisory Panel of The Nazi War Crimes and Japanese Imperial Government Records Interagency Working Group.