Xi arrives in US for first meeting with Trump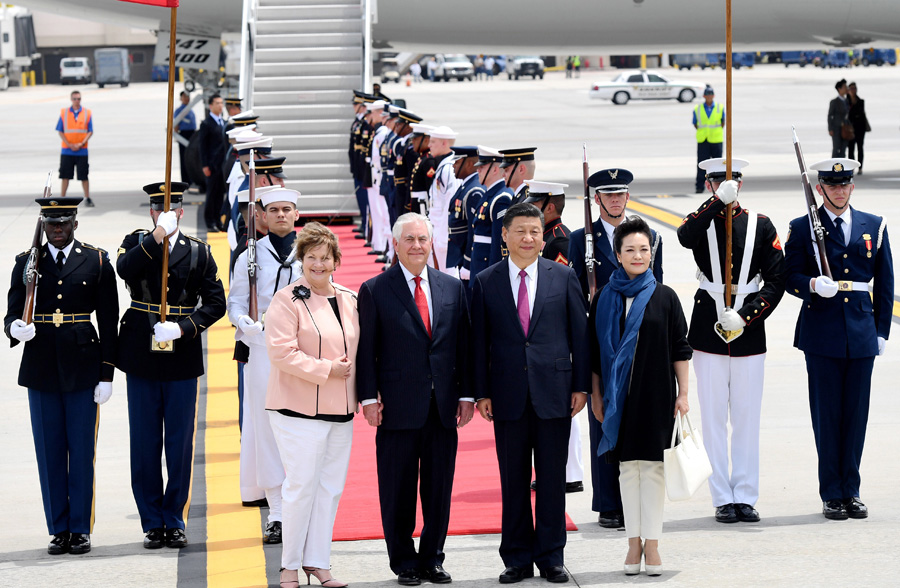 President Xi Jinping and first lady Peng Liyuan are received by US Secretary of State Rex Tillerson and his wife, Renda St Clair, at Palm Beach International Airport on April 6, 2017. [Photo/Xinhua]
PALM BEACH, United States -- Chinese President Xi Jinping arrived in this southeastern US coastal town on Thursday for the first meeting with his US counterpart, Donald Trump, in a bid to chart the course of bilateral ties in a new era.
In cloudy sunshine, the plane carrying the Chinese president, First Lady Peng Liyuan and other members of the delegation landed in the early afternoon at Palm Beach International Airport.
Under the gaze of an enthused welcoming crowd, including US Secretary of State Rex Tillerson and his wife, Xi and Peng stepped out of the hatch and waved before they walked down the ramp hand in hand.
During his two-day stay in the Sunshine State of Florida, Xi is scheduled to hold talks with Trump in the Mar-a-Lago resort, which Trump calls "the Southern White House," to exchange views on bilateral ties and major regional and global issues of common concern.
Xi and Peng will also attend a welcome banquet hosted by Trump and First Lady Melania, Chinese Vice Foreign Minister Zheng Zeguang told a press conference on March 31.
Under the current international circumstances, "the meeting will be of great significance to charting China-US relationship in a new era, advancing the development of bilateral ties in a healthy and stable way from a new starting point, and promoting peace, stability and prosperity in the Asia-Pacific region and the world at large," Zheng said.
Also late last month, White House Press Secretary Sean Spicer said at a press briefing that Trump sees the meeting as an opportunity for him "to develop a relationship in person with President Xi."
The US president, he added, "looks forward to meeting with President Xi and exchanging views on each other's respective priorities, and to chart a way forward on a bilateral relationship between our two nations."
Prior to the trip, the two sides, respectively the world's largest developed and developing country, have maintained close communication at various levels and reached important consensuses.