China, Russia pledge to play role of ballast stone for world peace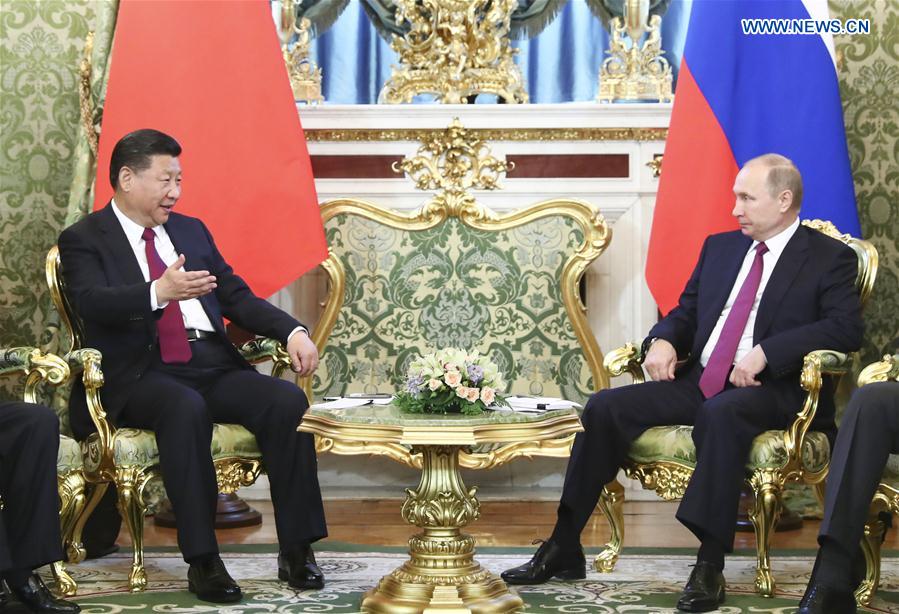 President Xi Jinping holds talks with his Russian counterpart Vladimir Putin at the Kremlin in Moscow, Russia, July 4, 2017. [Photo/Xinhua]
MOSCOW - Chinese President Xi Jinping and his Russian counterpart Vladimir Putin pledged here Tuesday to build strong China-Russia ties into a ballast stone for world peace and stability as their two countries seek to coordinate even more closely for a better world.
The two heads of state also agreed to make the bilateral ties, described by Xi as currently "the best ever in history," to become a booster for the development of their each own country.
Noting that China and Russia are good neighbors, friends and partners, Xi told Putin during talks at the Kremlin that the bilateral comprehensive strategic partnership of coordination is in the fundamental interests of the two countries and peoples, which boasts a strong vitality and huge development potential and will be able to withstand the test of international vicissitudes.
"A continued, sound and steady development of China-Russia relations is conducive to maintaining the security and stability of the two countries, to their own development and revitalization, and to world peace, stability and prosperity as well," Xi said.
The Chinese leader highlighted his close exchanges with President Putin over the past several years, saying the frequent contacts have lent important impetus to the development of China-Russia relations.
This is Xi's sixth trip to Russia since taking office, and the third meeting between the two heads of state this year.
Xi lauded bilateral ties as "the best ever in history," citing that China and Russia have offered firm support to each other on issues concerning their respective core interests, well aligned the China-proposed Belt and Road Initiative with the Russia-led Eurasian Economic Union, carried out flourishing cooperation in a wide range of areas, and maintained close, effective coordination on international and regional affairs.
"There is no end for our cooperation," Xi said. "The two countries should... deepen political and strategic mutual trust, increase mutual support, strengthen strategic coordination, boost practical cooperation, and forge closer people-to-people and cultural links."
Putin echoed Xi saying that the two countries have developed a high-standard relationship with a sound cooperation mechanism, and also, the two heads of state have developed a very good working relationship and a profound friendship.
He said that Xi's visit has achieved a complete success, and the Russian side is willing to work with the Chinese side to continue to strengthen their comprehensive strategic partnership of coordination.
During their talks, the two leaders vowed to abide by the China-Russia Treaty of Good-neighborliness, Friendship and Cooperation no matter how the international landscape changes, bring into play the strategic guiding role of the two heads of state in bilateral relationship, maintain frequent high-level exchanges, and enhance both governmental and non-governmental cooperation.