FM Wang visits Panamanian president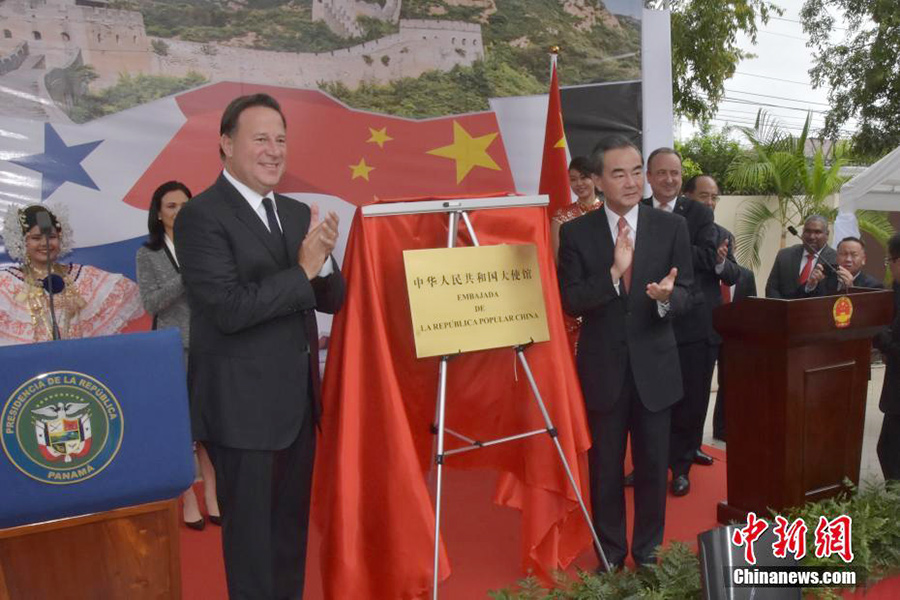 Visiting Foreign Minister Wang Yi, right, and Panamanian President Juan Carlos Varela witness the unveiling of China's new embassy in Panama City, Panama, on Sept 17, 2017. Hundreds of people, including government officials, overseas Chinese and executives of Chinese companies in Panama attended the ceremony. Beijing and Panama City announced the establishment of diplomatic relations on June 13. The former China-Panama Trade Development Office was upgraded to a full Chinese embassy and started its functions on July 13. [Photo/Chinanews.com]
New embassy unveiled
Wang said China's new embassy in Panama City would promote mutually beneficial cooperation and achieve common development for China and Panama, during the building's inauguration in Panama on Sunday.
Panamanian President Juan Carlos Varela and Vice President and Foreign Minister Isabel de Saint Malo also attended the event.
Wang said that history would show that the establishment of diplomatic relations with China was the right strategic choice.
Wang also sent a message to Chinese nationals living in Panama that the embassy would become a new home for them and provide better services for Chinese investors.
Wang also confirmed that Valera would visit China later this year at the invitation of President Xi Jinping, adding that China is looking forward to welcoming him.
Varela said after the establishment of diplomatic relations, both sides have already managed huge achievements, saying that geographical distance would not affect friendly contact between the two countries.